Sichuan Airlines starts flights to Kathmandu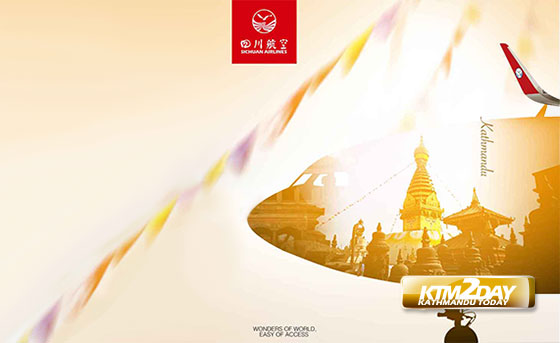 Chinese carrier Sichuan Airlines has started daily flights on Chengdu-Kathmandu-Chengdu route via Lhasa from Wednesday.
The airlines conducted had operated test flight on the route as per the rule of the Chinese government on Tuesday.
Sichuan's Airbus 319 aircraft landed at Tribhuvan International Airport (TIA) at 12:43 pm with 85 passengers on board. The aircraft flew back at 1:30 pm with 41 passengers.
The aircraft departs from Chengdu at 7:30 am and arrive in Kathmandu via Lhasa at 10:10 am. It will leave Kathmandu at 11:10 am. The aircraft has 132 seats including eight in business class. "Even though we had few passengers on Wednesday, we have received good booking for the coming days," said SharmaAs only one airline links Kathmandu with Lhasa at present, it is very difficult to get tickets to the Tibetan capital. "Now it will be easy for to get tickets to Lhasa,"
The airline has fixed one way fare at US$ 310 and round trip at $500 exclusive of taxes. Sichuan Airlines will help to bring more tourists to Nepal. As Kathmandu is considered the gateway to Lhasa, Sichuan Airlines will contribute to bring in more tourists. According to Ministry of Culture, Tourism and Civil Aviation, Nepal welcomed 113,173 tourists from the northern neighbor in 2013. Sichuan Airlines, which started operation from 1988, operates a fleet of 94 Airbus aircraft.
The airline will operate Airbus 319 series aircraft for Nepal flights. Sharma said that Sichuan will have 110 aircraft by the end of 2015. With the increase in number of Chinese tourist visiting Nepal, more Chinese airlines are coming to Nepal and existing airlines are also increasing flight frequency. Three other Chinese airlines — Air China, China Eastern and China Southern — also connect Kathmandu with different Chinese cities. Air China operates daily flights to Chengdu via Lhasa, while China Eastern flies to Kunming on a daily basis and China Southern operates double daily flights to Kathmandu from Guangzhou.