New Taxis to be introduced in Kathmandu Valley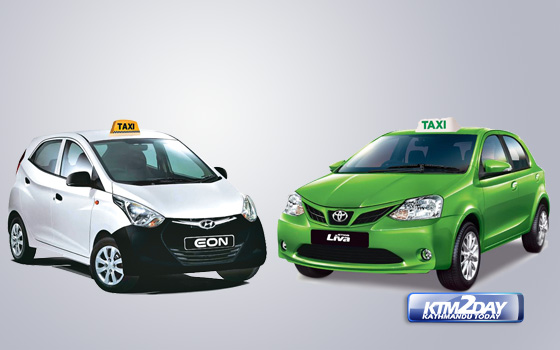 The government has been inundated by applications to operate taxis with 2,000 hopefuls vying for 1,850 permits on offer as of Sunday.
The Transport Management Office, Bagmati started receiving applications on August 5 after the government announced that the number of taxi cabs in the Kathmandu Valley would be increased.
With 10 days remaining to file applications, the final tally is expected to be much higher. This is the first time in 15 years that new taxi licences are being issued. There are more than 5,000 taxis running on the valley's streets presently.
The government has decided to add a total of 2,850 new taxis. Apart from 1,850 new taxi licences for regular applicants, the government has set aside 500 permits for earthquake survivors and affected families. Another 500 permits have been reserved for companies to operate deluxe and super deluxe taxis.
Applications for these 1,000 reserved taxi licences will be received after the 1,850 new regular taxis have been registered. It may take some time for applications for earthquake affected people to be opened as the government is still engaged in identifying them.
"As expected, the response has been phenomenal. People have been queuing up since morning to submit their applications," said Rajesh Poudel, head of the Small and Big Vehicles Division at the Transport Management Office. "Getting so many applications within the initial few days is a great success for the government."
According to Madhu Sudan Burlakoti, director general of the Department of Transport Management (DoTM), the number of applications might reach 15,000 going by the current trend. "We expected this to happen, so we have planned to issue new taxi licences through a lucky draw," Burlakoti said.
According to the DoTM, there are 5,650 taxis currently operating in the valley. In 2000, when the valley's population was estimated to be 1.3 million, there were 7,500 taxis. Kathmandu's population is expected to have bloated to more than 4 million today.
"The government has not registered new taxis since 2000. While the population has gone up significantly, the number of taxis has gone down," Burlakoti said, adding that the government was firm in its decision to introduce new taxis and that no agitation or protest was going to stop it. Hundreds of taxi drivers have been demanding that the government scrap its decision to add new taxis in the valley. They have been holding protests in several places in Kathmandu since the government made its decision public.
Out of the 1,850 new taxi licences to be issued to regular applicants, 700 licences will be given to applicants who wish to become entrepreneurs, 500 licences will be issued to applicants holding B category driving licences and plan to drive the cabs themselves, and the remaining 650 licences will be issued to the existing taxi owners or drivers. Taxi fares will differ with the type of automobile after the new taxis hit the streets, according to the DoTM. The present fare will be maintained for regular 800 cc taxi cabs. The fare for deluxe taxis with a 1,200 cc engine will be 20 percent higher and the fare for super deluxe taxis with a 1,300 cc engine will be 50 percent higher.
The introduction of new taxis in Kathmandu is expected to make life easier for passengers who are compelled to travel in uncomfortable and old taxis by paying much more than for other means of public transportation.
While all the taxis presently are Maruti 800s, auto dealers like Maruti, Hyundai and Toyota have announced plans to sell taxis in different segments.
Hyundai with the Eon Dlite+ and Maruti with the Alto 800 are set to compete in the normal taxi segment. As for Toyota, it is aiming to tap the premium market with the Toyota Etios and Etios Liva for the deluxe and super deluxe segments.
Well informed automobile dealers said that other brands too were making serious consideration to position their vehicles in the cab market.