KMC bringing in electric buses for Valley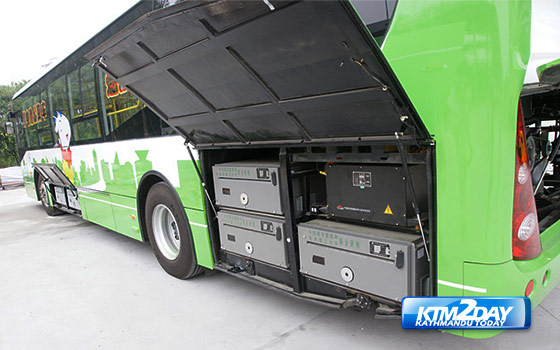 The Kathmandu Metropolitan City is preparing to bring large public buses, including electric ones.
"We are preparing to buy 25 large buses for public transport while a high-level team is in talks with the Chinese authorities to bring electric buses from the northern neighbour," said Gyanendra Karki, chief of the Administration and Organisation Development Department at the KMC.
The vehicles will be handed over to Sajha Yatayat with which the KMC has reached an understanding to operate public buses in the Kathmandu Valley where public transportation system is not up to the mark, with traffic jams being daily occurrences.
And the ongoing fuel crisis has worsened the situation. On Wednesday, KMC Chief and Executive Officer Rudra Singh Tamang had said that he would work to improve the public transportation system in the Valley by operating electric and large buses.
For the electric buses, Deputy Prime Minister and Minister for Foreign Affairs Kamal Thapa was supposed to initiate a diplomatic process with the Chinese authorities during his China visit this week, according to Karki.
Thapa is scheduled to meet KMC officials on Saturday when he will inform the metropolis about his talks regarding importing the buses from China. The KMC plans to bring around 25 electric buses in the first phase.
Handing over its buses to Sajha Yatayat for operation will increase KMC's share in the public transport sector. The KMC has already invested Rs20 million to work in cooperation with Sajha Yatayat and reached an agreement to invest an additional Rs80 million to run eco-friendly and disabled-friendly city buses in the Valley.
Earlier in 2012, the KMC had collaborated with transport entrepreneurs in the Valley to launch night bus services. But the services had to be discontinued following disputed over financing. KMC's second attempt to run public buses in the Valley in 2014 also failed to take off.
But now with its tie-up with Sajha Yatayat, which is already operating large public buses in Kathmandu, the KMC hopes to make its public transport system plan a success.