Much-delayed rebuilding campaign inaugurated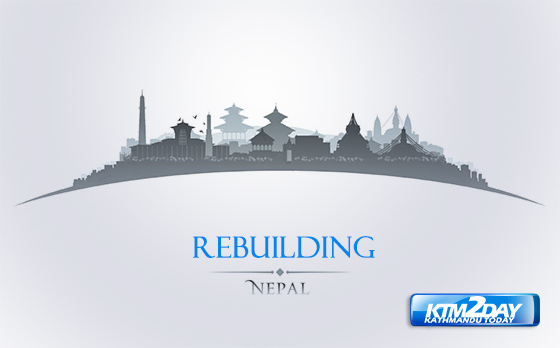 Nearly nine months after the April 25 earthquake, the country officially began its reconstruction campaign on Saturday, with the target of starting rebuilding around 1 million quake-ravaged houses and infrastructure from April 24, on the eve of the first anniversary of the disaster that killed nearly 9,000 people.
President Bidhya Devi Bhandari inaugurated the campaign by laying the foundation stone of a temple on the premises of Rani Pokhari amid a function at 11:56am, the time when the earthquake rocked the country last year.
Immediately after President Bhandari inaugurated the reconstruction campaign, Prime Minister KP Sharma Oli unveiled a construction design for Bungamati, a traditional Newar settlement in Lalitpur, at 2:24pm, the time when an earthquake had hit the country in 1934 that had killed nearly 8,000 people. The formal inauguration of the reconstruction campaign coincided with National Earthquake Safety Day, which is observed on the second day of Nepali month of Magh to mark the anniversary of the 1934 quake.
The formal reconstruction campaign took off on Saturday amid widespread criticism. Tens of thousands of earthquake survivors have been living in makeshift shelters for the last nine months, awaiting reconstruction, which was delayed largely due to bickering among political parties and constitution drafting as well as Tarai protests.
National Reconstruction Authority Chief Executive Officer Sushil Gyewali said Saturday's events mark symbolic beginning of the reconstruction process and that rebuilding efforts will gain momentum immediately after the reconstruction body receives detailed damage assessment reports from all quake-affected districts.
"Ideally, we wanted to start reconstruction projects from Barpak, Laprak, Sankhu and other worst-affected villages," said Gyewali, adding, "But that was not possible as a lot of groundwork still remains incomplete. Since the Kathmandu Metropolitan City had already prepared a master plan for rebuilding Rani Pokhari, we decided to begin the campaign from here."
According to Amod Mani Dixit, executive director of National Society for Earthquake Technology Nepal, the reconstruction after the 1890 earthquake was completed within seven months even though 70 percent of houses were destroyed at that time.
"The houses destroyed in the 1934 earthquake were constructed within a year," said Dixit. "It's already late, but let's rebuild our houses while complying with the building code," said Dixit. International donors have pledged more than $4 billion for rebuilding Nepal. In addition to this, the government has already allocated Rs74 billion.
During a programme organised to inaugurate the post-quake reconstruction campaign on Saturday, leaders from major political parties said that they would not tolerate any forms of corruption. Their promise to take "zero tolerance approach against corruption" comes amid widespread cynicism that the reconstruction process will be heavily politicised, benefiting only the cronies of the parties instead of actual affected citizens.
Many see the wrangling over the formation of the National Reconstruction Authority and the subsequent choice of Sushil Gyewali as its head as an indication of some sort of "ulterior motive" of political leaders. "I will adopt zero tolerance policy against corruption. Wrongdoers will be booked," said Prime Minister KP Sharma Oli. UCPN (Maoist) Chairman Pushpa Kamal Dahal, who also heads a high-level political committee formed by the ruling parties, committed that the government and its agencies would not indulge in any kind of wrongdoings, irregularities and corruption.
Former prime minister and Nepali Congress President Sushil Koirala urged PM Oli to develop strong monitoring mechanism to ensure transparency and accountability.