Machine Readable Passport in just 10 minutes !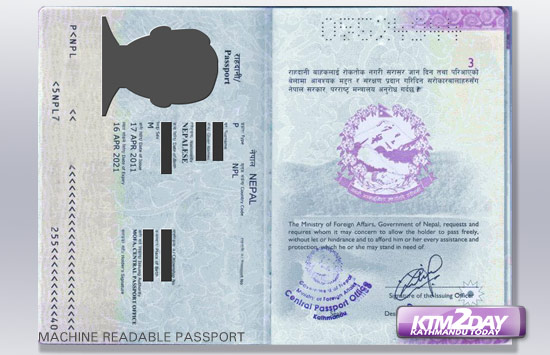 Good news for those applying to procure machine readable passport (MRP). Now a client can get MRP within a day of submission of the application along with a fee of Rs 15,000.
To begin the service much to the relief of the service seekers, Deputy Prime Minister and Minister for Foreign Affairs Kamal Thapa handed Chandrakali Budathoki of Dhanauri, Dang her MRP that was made in 10 minutes today.
Operation of the service follows the government's decision on June 5 in this regard.
Likewise, for those who want to procure MRP within two days, they have to pay Rs 12,000 each and one should pay Rs 10,000 to get MRP within three days. Earlier, it would take a week to procure MRP by paying Rs 10,000.
The Department of Passport of the Ministry of Foreign Affairs said that service seekers can get MRP from their respective District Administration Office within five to 15 days by paying Rs 5,000 for the same.
Earlier, it would take one month to get MRP through normal process by paying Rs 5,000 each.
Meanwhile, the department today launched a live enrolment system service.
According to the system service, a service seeker can fill out a digital application form from anywhere in their place of convenience, but they have to appear in person the department within 21 days for signature and cross-verification of their details. Their digital details will get deleted automatically after 21 days of the filling up of an application form.
Meanwhile on the occasion, DPM Thapa said that the system has become a milestone in the passport distribution history of MRP. He added that the government was actively working to provide MRP to people at the district-level too through the fast-track system.
Web Address : https://online.nepalpassport.gov.np/PreEnrollment/home.html