Jet Airways adding flights frequency to Kathmandu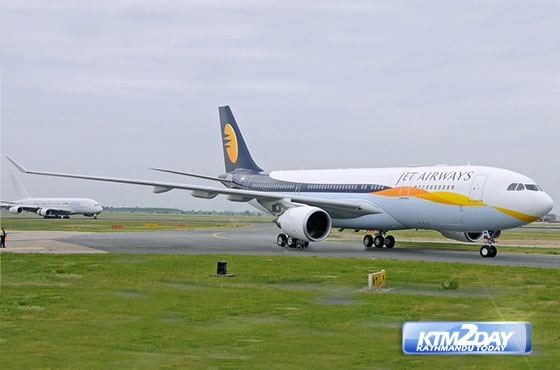 Jet Airways is increasing its flight frequency from Kathmandu to New Delhi and Mumbai from October.
Organizing a press meet in the capital on Thursday, the airline said that it would fly three times a day to New Delhi and two times a day to Mumbai from Kathmandu from October. Currently, the airline is flying two times a day to Kathmandu from New Delhi one once a day to the capital city from Mumbai.
Once the flight frequency is increased, Jet Airways will have 35 weekly departures to Kathmandu.
Announcing additional flights to Mumbai and New Delhi from Kathmandu, Tanay Raghuraj, Jet Airways' country manager for Nepal, said that Nepal is a strategic market to the airline. "Increase in flight frequency is a part of our long-term commitment to the Nepali market," he said, adding: "Jet Airlines has sentimental attachment with Kathmandu. The aftermath of devastating earthquake witnessed most carriers either cutting down their frequencies or discontinuing operations. However, Jet Airways remained committed and supportive throughout these chaotic times."
He further added that Jet Airways had brought in relief materials and waived off freight charges for all these shipments on humanitarian grounds.
Jet Airways is operating in Nepal for the past 12 years.