Government starts installing computer billing system in taxis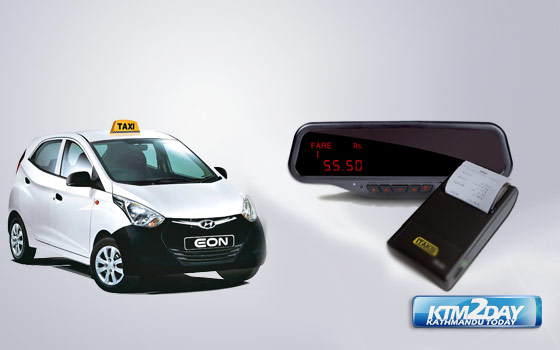 The government has started installing computer billing system in taxis operating in Kathmandu Valley from today.
Under the system, Nepal Bureau of Standards and Metrology (NBSM) will fit a billing system in the cab and commuters will be given a receipt after their travel which will incorporate information like distance travelled, total cab fare and cab number. Cab operators can install this system at NBSM's office located in Balaju.
Owing to increasing trend of cab drivers overcharging commuters by tampering meters, NBSM had published a notice two weeks back asking cab operators to install this system at the earliest.
"We have started to install printers in Valley cabs from today and we expect to install this system in at least 800 cabs in the first week," said Bishwo Babu Pudasaini, director general of NBSM, adding that all cabbies operating in Kathmandu Valley will have to install this computer billing system within the next few months.
Pudasaini said that such printers will be fitted first in all new taxis which were launched last year before the technology is installed in older cabs.
NBSM says there are almost 9,000 taxis operating in the Valley. Since years, NBSM has been receiving complaints of cab drivers not operating on meters and overcharging commuters. Pudasaini believes that cab drivers cannot cheat customers once the computer billing system is fitted in cabs. "As commuters will get a receipt after their travel, they can complain to the government if cab drivers overcharge them with the receipt as proof," he said, adding that the receipt will be an evidence for commuters.
Similarly, Pudasaini said that NBSM will begin monitoring cabs in Valley after a month to know whether they have fitted such technology or not. "If any taxi is found without this system then NBSM will take action against the erring operator," he said. Moreover, the government recently introduced a provision under which taxi operators cannot renew or transfer ownership of taxi if they have not installed the computer billing system.