Shree Airline to start operations with 3 Bombardier jets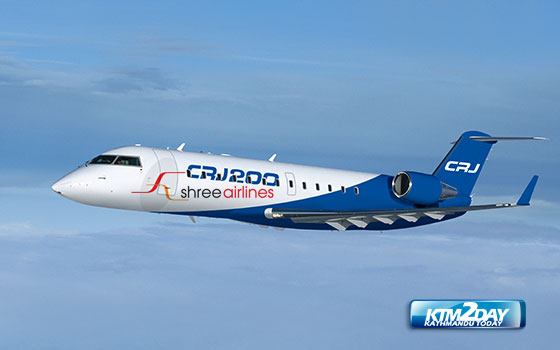 Nepal's largest helicopter operator Shree Airlines, welcomed its second Bombardier Canadair Regional Jet (CRJ) on Saturday.
The Civil Aviation Authority of Nepal (Caan) has allocated the call sign 9N-AMA to the jet. Shree said its third 78-seater CRJ-700 will arrive after a fortnight.
"We have a target to put the jets into commercial operation by mid-May," said Anil Manandhar, corporate manager of Shree Airlines.
The first 50-seater jet has been sent to Nepalgunj to paint its livery.
Shree has been allotted six sectors-Bhadrapur, Biratnagar, Bhairahawa, Nepalgunj, Dhangadhi and mountain flight.
It has become the second Nepali carrier to fly Bombardier aircraft after Saurya Airlines. Airline officials said the reduced travel time offered by jet aircraft will help them attract travellers and break the duopoly of Buddha Air and Yeti Airlines on trunk routes.
Currently, Buddha Air, Yeti Airlines, Simrik Airlines, Saurya Airlines and Nepal Airlines serve domestic trunk routes. The airline has invested Rs2 billion on its expansion project. It will be hiring at least 200 more personnel for its expansion project.
Shree received a no objection certificate from Caan last March to buy or lease aircraft, eight months after the carrier applied to begin fixed-wing operations.
Although, Shree had planned to launch commercial operations by the end of 2016, stringent Air Operators Certificate requirements forced it to push back its launch date.
The carrier has also set an ambitious plan to connect South Asian markets in the second phase. Currently, it has an international operation licence for its MI-17 helicopters only. Started in 1999, it currently has six MI-17 and four Eurocopter AS350 B3e helicopters.
The domestic aviation sector has been moving towards recovery after putting the devastating earthquake behind them, but a spate of crashes has badly dented the reputation of Nepali airlines.
According to Tribhuvan International Airport (TIA), Nepal's domestic air passenger movement jumped 28.85 percent to 1.75 million in 2016, as travellers took to the air to avoid bone-jarring national highways.