Tourist arrivals up by 30 percent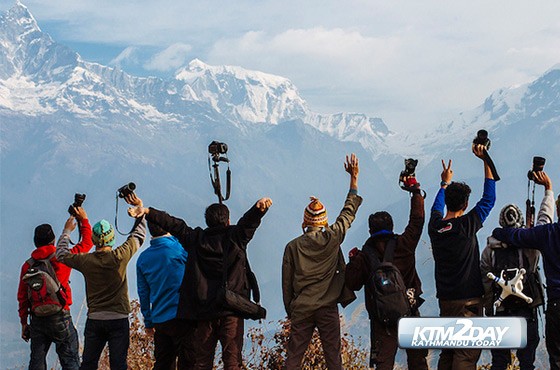 Tourist footfall to Nepal surged by 29.67 percent over the first 10 months of 2017 compared to figures of the same period of 2016.
Data compiled by the Department of Immigration (DoI) shows 757,381 foreign tourists have entered the country via air till October, which is more than what the country had welcomed in the 12 months of 2016. In 2016, a total of 729,550 foreign tourists entered Nepal via air.
According to the department, Nepal had welcomed 584,104 visitors via air in the first 10 months of 2016.
The number of tourists that entered the country through land routes is not included in the data released by the DoI.
India continued to be the largest tourism market for Nepal in the review period. Nepal welcomed 133,029 visitors from the southern neighbors in the first 10 months of 2017. China came second with 83,342 visitors, followed by the US with 65,204 visitors. In the same period of 2016, Nepal had received 94,361 visitors from India, 61,079 from China and 48,481 tourists from the US.
Tourist arrival was on a decline since 2011 when the country organized Nepal Tourism Year (NTY) campaign. The earthquakes of 2015 dealt a severe blow to the Nepali tourism industry. But the Nepali tourism industry rebounded strongly in 2016 and is continuing the momentum in 2017 as well.
The DoI expects tourist arrival figures via air to touch the one million mark this year. This means the target set six years ago is finally being achieved.
Welcoming one million visitors via air was one of the targets set by the NTY campaign six years ago.
Tourism stakeholders say that the effort of the government and the private sector to portray Nepal as a safe destination after the earthquakes of 2015 is finally paying dividends.