Thai Airways celebrates its 50th anniversary of operation in Nepal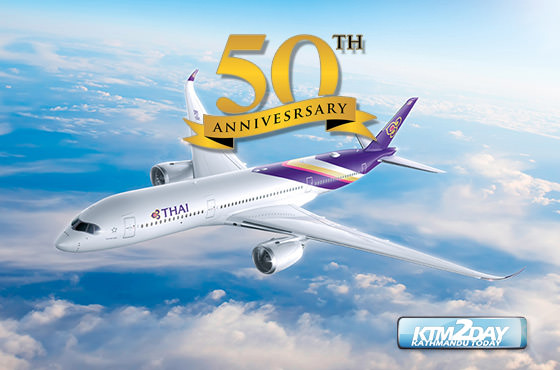 Thai Airways on Monday celebrated its 50th anniversary of operation into Nepal. The carrier started its first flight to Nepal on December 4, 1968. It was the first ever passenger jet service airline to introduce Nepal to rest of the world. In the beginning, Thai Airways operated only one flight a week which soon increased due to high demand.
The carrier said that in February 1985, it became the first airlines to introduce computerised reservation system in Kathmandu and provided this facility to its leading travel agents from 1990. Besides this, Thai has its own silk class lounge, ground handling services, royal orchid holiday packages and technical handling services, the carrier said in a statement.
The carrier said that it has also been carrying out corporate social responsibility activities like blood donation drives, annual cataract surgery camps, cardio check up and health camps, and stationary distributions to orphanage schools.
Thai Airways is celebrating its golden jubilee throughout 2018 with various co-partners to organise promotional activities, said the carrier.