Himalaya Airlines celebrates 3rd Year Anniversary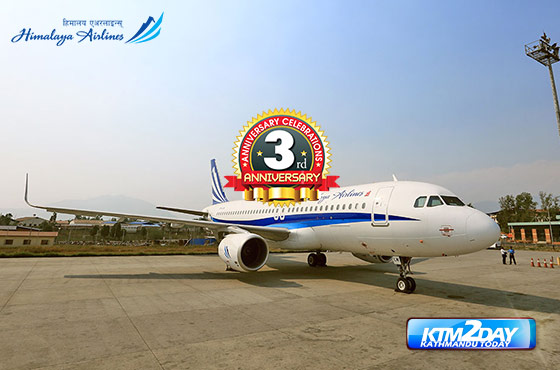 Himalaya Airlines has organized different programs to celebrate third year of operation.
Issuing a statement, Himalaya Airlines said that the two years have been proving as establishing years for the airlines with important milestones achieved.
The airline currently operates three Airbus A320.
"We are honored to hold the first international award of 'Leading New International Airlines in South Asia' received at South Asian Travel Awards (SATA) 2017," the company added in the statement.
On the occasion of its anniversary, the airline announced an audience engagement program with the launch of a Social Media Quiz that runs across the company's Facebook, Instagram and Twitter accounts.
"The celebration was further shared with the passengers, who flew Himalaya Airlines on Friday to Doha, Dubai and Kuala Lumpur, by distributing red velvet cupcakes on-board," the statement added.
Established in August 2014, Himalaya Airlines, a Nepal China joint venture, is a private airline providing international air services.