Buddha Air to start flights to Varanasi and New Delhi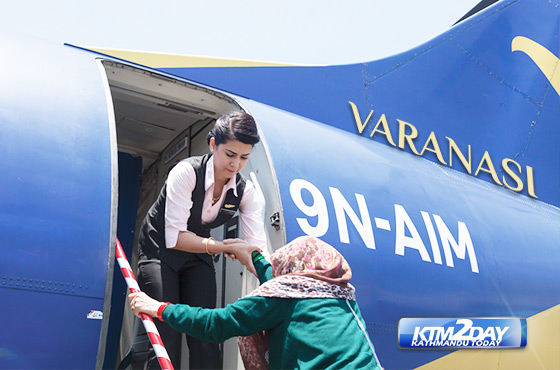 Buddha Air, which has been providing air services to various sectors, has announced that it will soon start its next international flight from Nepalgunj to Delhi in India.
"The process of taking permission to commence flights for the Nepalgunj-Delhi sector from the Civil Aviation Authority of Nepal (CAAN) has begun," said Birendra Bahadur Basnet, managing director of the company, during a press conference today.
As per Basnet, the company has requested CAAN to allow it to start three daily flights on the Nepalgunj-Delhi route. Buddha Air will be using its ATR-72 aircraft in the sector. "We are targeting tourists who plan to visit Mansarovar, Rara, Swargadwari and Khaptad regions, which have started attracting more number of visitors."
Meanwhile, Buddha Air has been operating flights on the Kathmandu-Varanasi sector since March, 2012.
The company announced today that it will start operating two weekly flights — Monday and Friday — on this sector from June 29. Previously, it was operating only one weekly flight.
"The main reason for adding more flights to Indian cities is to target the increasing number of Indian outbound travellers," Basnet stated.