Nepal Airlines A330-200 lands at KTM airport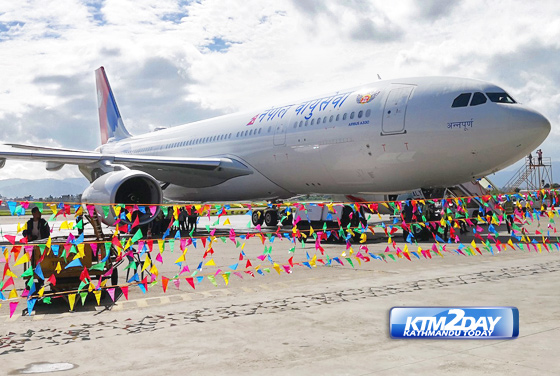 Nepal Airlines Corporation's first long-range Airbus A330 has arrived at Tribhuvan International Airport on Thursday morning.
The aircraft, named Annapurna, touched down at TIA runway at around 8:05 am. It had flown into Kathmandu from Airbus's final assembly line in Toulouse, France.
NAC has named the aircraft after Annapurna, the world's 10th highest peak in the world. The state's flag carrier paid US$4,800,000 for the aircraft.
The new aircraft, powered by Rolls-Royce Trent 700 engines, features a two-class cabin configuration and seats a total of 274 passengers—18 in business class and 256 in economy class.
NAC ordered two 274-seater jets through Portuguese leasing company Hi Fly. The second jet is expected to arrive by July-end.
Annapurna will commence commercial operations within a month. NAC plans to put the aircraft into commercial service in 15-20 days after finishing the paperwork with the Civil Aviation Authority of Nepal.
It, however, will not fly on new routes immediately and instead operate on the Doha, Dubai and Bangkok sectors for at least a month.
The plane will fly to Riyadh in Saudi Arabia and connect Japan and South Korea in the second phase.