Vehicle registration in Nepal crosses 3 million mark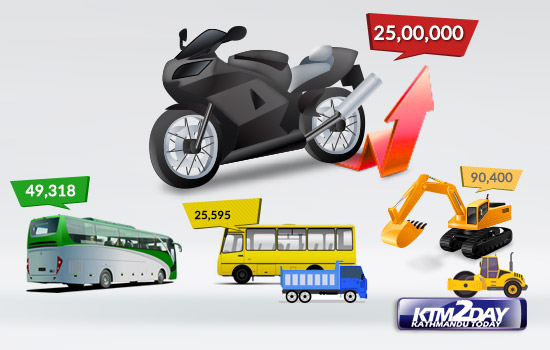 Registration of automobiles in the country has crossed the three-million mark, thanks to the growing automobile business in the country in recent years.
The vehicle registration statistics published by the Department of Transport Management (DoTM) today show that 437,614 units of vehicles were registered in the country in the last fiscal year, taking the total number of vehicles registered in the country so far to 3.22 million.
However, it does not mean that 3.22 million vehicles are currently plying the country's roads as vehicles are disposed after a certain period of time once they become outdated and inoperable. The aforementioned registration of vehicles in the country is since 1990.
DoTM data show that vehicle import has been increasing rapidly in the country since the past few years. As per the DoTM's statistics, more than half of the total registered vehicles so far were imported in the last five years. Though the total registration of vehicles in the country was recorded at 1.55 million units until 2012-13 fiscal year, it reached 3.22 million by 2017-18.
Of the total number of vehicles registered in the country so far, 2.5 million are just motorbikes. Along with the easy financing facilities for two-wheelers in the country and problems related to traffic and parking, the demand for two-wheelers has increased manifolds in the Nepali market.
Similarly, DoTM's data shows that 49,318 buses, 25,595 mini buses/mini trucks, 90,411 cranes/dozers, 237,658 cars/jeeps/vans, 55,973 pick-up vans, 7,658 micro buses, 45,672 tempos, 143,962 tractors/power trailers, 26,466 e-rickshaws and 7,607 different other vehicles have been registered in the country so far.
Easy financing and low interest rates on auto loans in the past few years are the other two factors besides necessity that automobile dealers attribute to the increasing automobile registration in the country. In the context of improper public transportation system in Nepal, personal vehicles have become a must for Nepali people in recent years, they claimed.
"Automobiles are today a necessity and are no more luxurious goods. Vehicle import is bound to increase in the future owing to its increasing necessity among people," said Shambhu Dahal, president of Nepal Automobile Dealers' Association (NADA).
However, auto dealers have said that vehicle business has come down dramatically from beginning of fiscal year 2018-19 after the government increased taxes on vehicles, especially high-end vehicles.
"As the price of high-end automobiles has skyrocketed owing to increased tax rates, the demand for such luxurious vehicles has come down notably," informed Dahal.