Odd even rule during BIMSTEC summit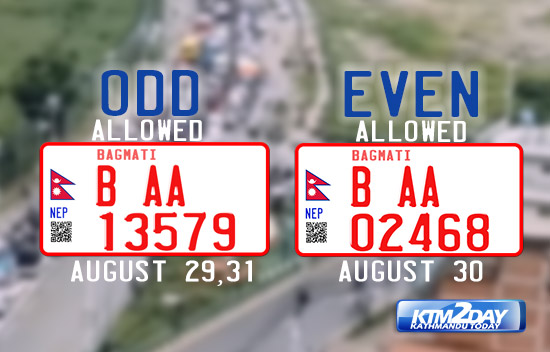 The BIMSTEC summit is going to be held in Kathmandu from this week and will continue for two days from Aug 30-31.
Bay of Bengal Initiative for Multi-Sectoral Technical and Economic Cooperation or BIMSTEC is technological and economic cooperation among south Asian and southeast Asian countries along the coast of the bay of Bengal.
The BIMSTEC member states—Bangladesh, India, Myanmar, Sri Lanka, Thailand, Bhutan, and Nepal—are among the countries dependent on the Bay of Bengal.
To take part in the summit various head of states and representatives of member countries will be arriving in Kathmandu during the two day program.
Citing security reasons The Metropolitan Traffic Police Division will be implementing odd and even rule to all private and public owned vehicles from Aug 29 to Aug 31.However, emergency vehicles like ambulance, hearse and those of security agencies and hospitals will be exempt from the odd-even rule.
To keep traffic congestion free on every corners of the vallery the Traffic division will be implementing odd rule on the 29th and 31st and a even rule on the 30th.
Vehicle owners with odd number plates ending in 1,3,5,7,9 are allowed to drive on the 29th and 31st while vehicles with number plates ending in even numbers 0,2,4,6,8 will be only allowed on the 30th.
MTPD says over 1.1 million vehicles, including 700,000 two-wheelers, ply the valley roads daily. The road space rationing, also known as alternate-day travel, is expected to reduce the traffic by half on the roads for three days.
Traffic congestion in Kathmandu has become increasingly severe in recent times and the odd-even rule will also decrease traffic jam to create enough road space for movement of participants of the BIMSTEC Summit while further bolstering security situation.
The odd and even rule will be applicable to all two wheelers and four wheelers and those found not following the rules will be fined Rs.500 on the spot and their vehicle impounded for a day.
The MTPD has further stated that there will be no odd even rule in effect during 10pm-6am.