NADA Auto Show 2018 concludes with sales worth Rs.5 billion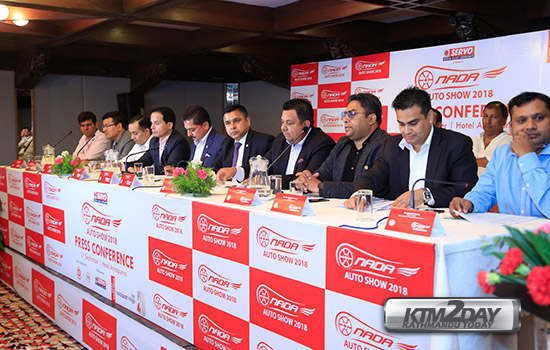 The 13th NADA Auto Show 2018, the biggest exhibition of automobiles in Nepal, concluded on Sunday, recording transactions worth Rs. 5 billion.
Majority of the transactions were from the bookings of low-cost vehicles, said Krishna Prasad Dulal, vice-president of NADA.
According to him, another highlight observed at this year's event was the surge in consumer interest regarding electric vehicles.
These category of automobiles drew a good number of enquiries from visitors. The demand for electric vehicles (EVs) has been increasing and automobile companies have been introducing EVs, especially in the two-wheeler segment.
The main obstacle stopping EVs from fully proliferating in the market is the lack of proper infrastructure, according to Dulal.
"We have made suggestions to the government for the development of infrastructure for EVs," said Dulal, "The government needs to install charging stations at different places to promote EVs." The six-day expo, jointly organised by NADA and Global Exposition and Management Services showcased the latest four-wheeler and two-wheeler models in Nepal under a single roof.
More than 70 importers, dealers, distributors, and manufacturers from the automobile sector participated in the event. There were around 135 small and big stalls and blocks. Due to space constraint, heavy commercial vehicles did not take participation this year.
There were 19 four-wheeler brands and 20 brands from the two-wheeler sector along with stalls of spare parts, tires, lubricants, garage equipment, battery, and other auto accessories as well at the expo.
While a detailed breakdown regarding the sales of two-wheelers and four-wheelers at the expo is yet to come, one statistic was highlighted, the number of visitors. The 13th edition of NADA 2018 pulled in 65,000 visitors.
According to organisers, automobile companies record up to 30 percent of their annual sales during the expo itself. Special schemes and offers along with new launches, financial services, availability of accessories under the same roof are some of the reasons that boost sales during the expo, said the organisers.
Various new models of two-wheeler and four-wheeler were unveiled during the automobile exhibition. Major automobile brands such as MG Motors, Tata Motors, Skoda, Toyota, Isuzu, KIA, Hyundai, Renault, Nissan, Subaru, Ford, Honda, Jeep, Mahindra, Ssangyong, TVS, Bajaj, Royal Enfield, Benelli, KTM, NIU, Miyama, Vespa participated in this year's auto show.