NAC prepares to fly to several remote locations this Dashain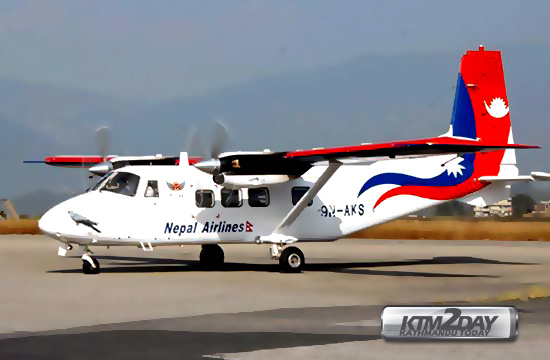 In view of increased demand and limited number of air carriers operating in remote areas of the country, the national flag carrier has started conducting test flights to various hilly destinations.
Yesterday and today, Nepal Airlines Corporation (NAC) operated test flights to Lukla, Simikot, Dolpa, Talcha and Jumla. Instructor Captain Noori Sherpa and Captain Udhab Ghimire had successfully flown NAC's China-made Y12e aircraft to the said destinations, five years after the plane was purchased.
Also read – 'Nepal Airlines exploited loopholes while purchasing wide-body aircrafts'
NAC is planning to conduct a test flight to Jomsom on Thursday.
"We are just testing the suitability of flying Y12e to the remote destinations and will soon schedule regular flights based on the results of the test flights," said Madan Kharel, executive chairperson of NAC.
According to Kharel, after conducting the test flight on Thursday, NAC will submit a flight performance report to Civil Aviation Authority of Nepal (CAAN) by Monday, seeking final approval for the regular flights. "Our plan is to resume flights to viable remote domestic destinations before Dashain."
A representative from CAAN, Captain DR Niraula, is part of the team conducting the test flights. "The report to be submitted to CAAN will include all relevant details, like maximum number of passengers per flight, baggage weight per person, wind condition and other weather-related matters," said Kharel.
As per a performance report submitted by NAC to CAAN in 2015, Y12e is suitable to conduct flights in both low and high altitudes and it can accommodate an average of 12 passengers in all weather conditions.
NAC had stopped flying to remote areas of the country in 2014 after being unable to make any profit from the service. NAC had sold its Twin Otters to another domestic airline company that is currently operating the planes in the said routes.
"One of the main reasons NAC was unable to resume flights to the remote areas was also because of shortage of pilots," said Kharel, adding vacancy has already been announced to fill the gap.