Yeti conducts KTM-PKR flight with new aircraft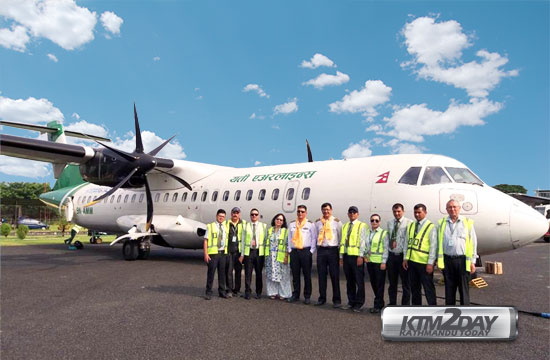 Yeti Airlines has begun conducting its Kathmandu- Pokhara-Kathmandu flights with its recently acquired 72-seater ATR 72-500 aircraft.
The new aircraft started its flights on Pokhara route from Wednesday. The airline conducts two morning flights at 7:30 am and 9 am.
Also read – NAC prepares to fly to several remote locations this Dashain
The airline company decided to use the bigger plane for the said route in consideration of increased demand and start of tourist season, as per a press note.
Yeti airlines will only carry 60 passengers on this aircraft due to short landing strip in Pokhara airport.
As per Yeti Airlines' Communication Officer Bhim Raj Rai, the company has decided to conduct two scheduled flights using the new aircraft while it will continue to service the route with its 30-seater Jetstream 41 plane.
The airline plans to increase its fleet with the growing demands of passengers in the near future.