Daraz to host 11.11, World's Biggest Sale Day on Nov 11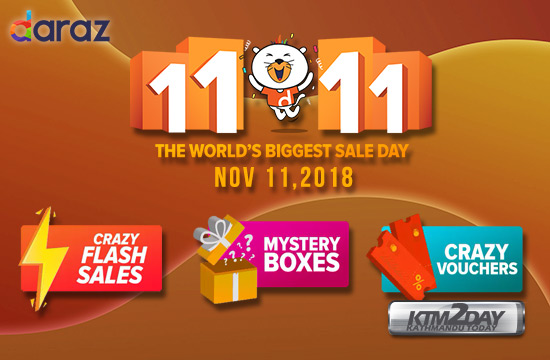 Nepal's number one online marketplace, Daraz, is bringing 11.11, the 'world's biggest sale day', to Nepal for the first time.
The one-day sale event on the new Daraz App will be the biggest to date for the e-commerce company. 11.11 is the numeric short-form of November 11.
Also read — Daraz unveils new updated app with daily flash sales feature
During the first mega event since the launch of the new Daraz App,customers can expect a truly personalised and supercharged lineup of activities. Daraz 11.11 is a first of its kind event and is set to revolutionise regional e-commerce. 11.11 started in 2009, when Alibaba, Daraz's parent-company, positioned it as Asia's answer to Black Friday.
Fast-forward 10 years and the headlining 11.11 sale is ready to make the journey to Nepal. The one-day event posts unequalled sales numbers, four times that of Black Friday.
Customers can look forward to a fully personalised shopping experience, in addition to massive mega deals, flash sales, thousands of brand vouchers, mystery boxes, giveaways and many more.
On November 11, 2018, Nepal will greet the sale phenomenon with open arms and carts.