Nepal Electricity Authority set to install 10 EV charging stations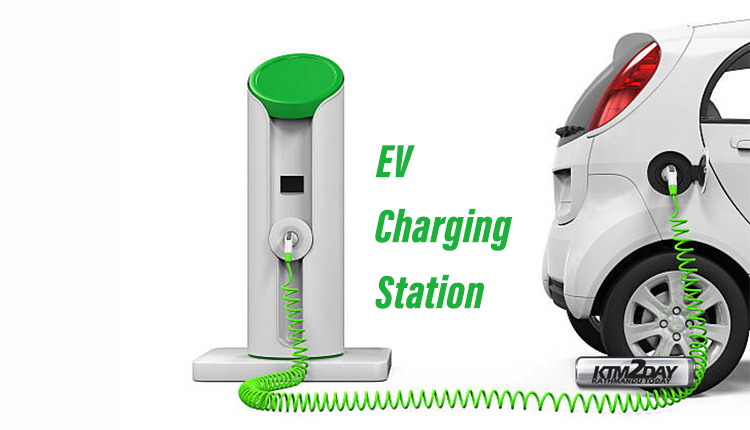 Nepal Electricity Authority (NEA) is all set to install 10 charging stations for electric automobiles across the valley within the next 6 months.
The state-owned utility aims to shortlist suitable locations for the charging ports to be set up, looking to promote the usage of electric vehicles (EV). The Office of Energy Efficiency and Leakage Control of the NEA has stated it has sped up the task of finalizing the locations.
Pramod Rimal, a deputy manager at the office, said that the NEA has published a notice, requesting interested firms to provide space for installing public charging stations that enables all kinds of electric vehicles to be speed-charged via 'DC Boost Charging'. "Our plan is to set up charging stations at places like corporate offices, super markets, cinemas and government offices," Rimal said. "Once we get appropriate space, we will install charging stations using our resources.
According to Rimal, each outlet will require three charging stations of 50 kilowatts each, and a parking space that accommodate at least 50 motor vehicles. The cost has been estimated in range of Rs 100-150 million.
NEA has already received about 10 proposals.
"Three types of electric vehicles have been imported Nepal. These proposed stations will support all these vehicles," said Rimal.
Elaborating more on the turbo-charging feature of the proposed stations, Sagar Mani Gyawali, assistant manager of the NEA, said that hour should be more than enough to fully recharge an electric vehicle.
According to Gyawali, the propose stations will recharge EVs using any of the three ports – CHAdeMO, CCS and GBT. He also highlighted the economic advantage of using electric vehicles over other automobiles running on fossil fuel. "Fuel cost of a kilometer in electric vehicles is Re 1, while the same on motor vehicles using diesel and petrol goes up to Rs 7," added Gyawali.