Samsung Galaxy Note 10+ and Note 10 press renders leaked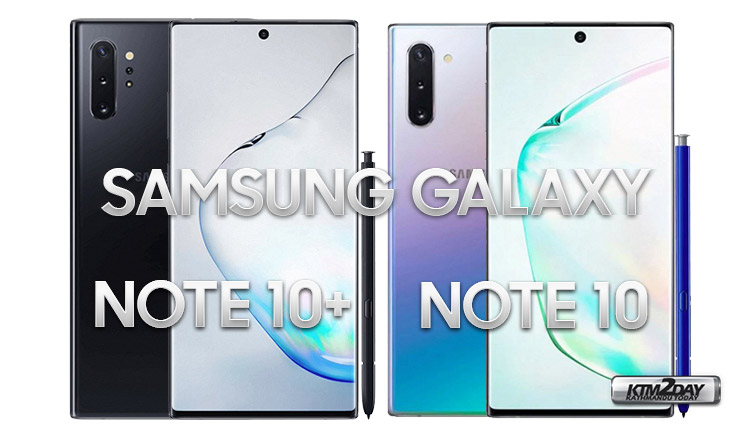 As the announcement of the Samsung Galaxy Note 10 smartphone approaches, information from the official channel has started showing up on the web.
According to leaked information about the upcoming Galaxy Note 10 devices we have now received the first official renders of these devices in full clarity.
These leaked images are meant for the press and has been leaked ahead of scheduled release to the media.
The source published the first images of the Galaxy Note 10 model, not the Galaxy Note 10+.
The images give us a fair idea of ​​two versions of the Galaxy Note 10. Recall, according to preliminary data, the device is equipped with a display of 6.3 inches diagonally.
At the top of the display you can see the hole with the front camera. The display is surrounded by very thin bezels. You can also note the absence of a button to call the Bixby virtual assistant.
Eventually the press renders of the Galaxy 10+ has also now appeared on the web after the basic Galaxy 10 images.
It is not easy to differentiate one model from another as they are exactly the same from both the front and back view.
One thing that makes us easy to distinguish the premium Galaxy Note10 + model is that there is an additional camera module to the right of the main unit. This is a 3D ToF module. The Stylus pen is of course included in both models.
According to preliminary data, the Galaxy Note10 + is equipped with a 6.75 inch Super AMOLED screen. The resolution of the front camera is 10 megapixels, while rear cameras come with a resolution of 48 and 12 megapixels. Other features promised on this premium version include, double zoom and super wide-angle lens. Recall, the official premiere of the Galaxy Note10 series will be held on August 7.