Himalayan Airlines begins Kathmandu-Dhaka flight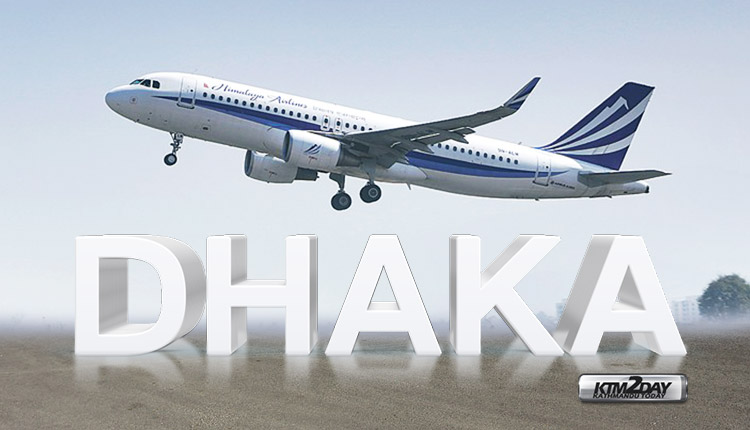 The Himalayan Airlines, one of the private carriers in the country, is going to start its Kathmandu-Dhaka flight from tomorrow.
The Airlines, which has a fleet of three new Airbus 320-200, will start its direct flight in the route to facilitate the influx of Bangladeshi tourists visiting Nepal. According to Himalaya Airlines' Vice-President Bijaya Shrestha, there would be three Kathmandu-Dhaka flights in a week.
He expressed happiness for being able to expand air services in Bangladesh having prospects of tourism. As per the schedule, the Himalayan Airline's aircraft with H9 678 call sign will fly from Kathmandu at 11:10 am local time and will land at the Hazrat Shahjalal International Airport at 13:10 pm according to their local time.
The same day aircraft with call sign H9 679 will fly from Dhaka at 2:10 pm local time of Bangladesh and will land at the Tribhuvan International Airport at 3:20. The Airlines will operate its A320-214 narrow-bodied aircraft in the Kathmandu-Dhaka route with 150 economy class and eight premium economy class seats, according to the press statement released by Himalaya Airlines today.
The airlines have offered 25 kg of free checked-in baggage allowance in the economy class and 20 kg in the premium economy. The Airlines is currently operating regular flights to three destinations in Qatar as well.
A total of 26,255 Bangladeshi tourists visited Nepal in 2018 while the number of Bangladeshi tourists visiting Nepal in 2017 stood at 29,060, according to the Nepal Tourism Board.