60 MW Upper Trishuli 3A's foundation stone laid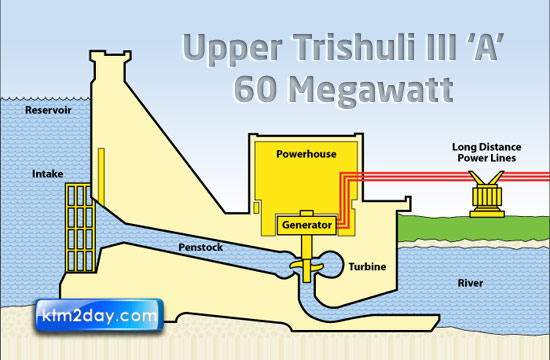 The foundation stone of 60-MW Upper Trishuli III 'A' was laid on Wednesday. With the country reeling under acute power crisis, the government is aiming at building the 60-MW project in three years.
Laying the foundation stone of the project located in Simle, Nuwakot, on Wednesday, Energy Minister Post Bahadur Bogati said the project will be a milestone in hydro development.
"Timely completion of the project will be instrumental in minimising load-shedding hours," the minister said, assuring that the government will prioritise construction of hydropower projects. The estimated cost of the project is Rs 10.6 billion and is expected to be completed by May 1, 2014.
On February 25, 2011, the Cabinet approved a Chinese Exim Bank loan worth Rs 7.08 billion for the construction of the project. The interest rate on the loan is 1.75 percent and its repayment period is 20 years.
China's Ambassador to Nepal Yang Houlan said Nepal has immense hydropower potential and China is willing to support the Nepali government to develop this sector.
Civil construction work of the project has already been started from June 1, 2011. Chinese contractor, China Gezhouba Group Corporation(CGGC), is carrying out the work. The power generated from the project will be supplied to a substation at Matatirtha in the Capital through a 220-KV 46-KK transmission line. The price of the electricity generated from the project is fixed at Rs 2.42 per unit. (Source:ekantipur)