Ad & Media Expo scheduled for April 8 at UWTC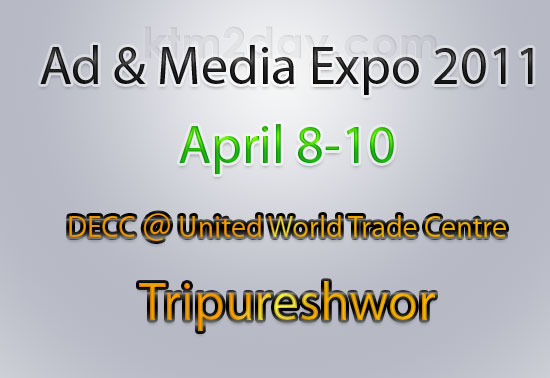 The Direction Exhibition and Convention Centre (DECC) and Alpabiram in association with the Advertising Association of Nepal (AAN) are scheduled to hold Ad & Media Expo 2011 from April 8-10 at DECC at the United World Trade Centre, Tripureshwor.
According to the organisers, the event aims to create awareness among people associated with media houses, advertising companies, photographers, students and teachers about the technologies being used nationally and internationally and to impart knowledge about the current status of the market through various methods such as exhibitions in a single venue, seminars and ramp shows.
"The information-communication and advertising sectors of Nepal have seen a massive upturn in recent days. It is rapidly turning into an industry from a business. It will benefit greatly from the expo," said AAN president Raj Kumar Bhattarai. "These sectors recorded a combined turnover of more than Rs 3.5 billion last year." He added that the expo would also help to connect the required human resources for the media and advertising sectors.
Alpabiram's chief executive officer Sekhar Raj Kasaju said that they were planning to hold the event annually. He added that media houses, advertising agencies, national and international multinational advertisers, educational institutions and developers of advertisement materials would participate in the event. The three-day expo is expected to attract more then 25,000 visitors, the organisers said.