Banks agree to lower interest rate on deposits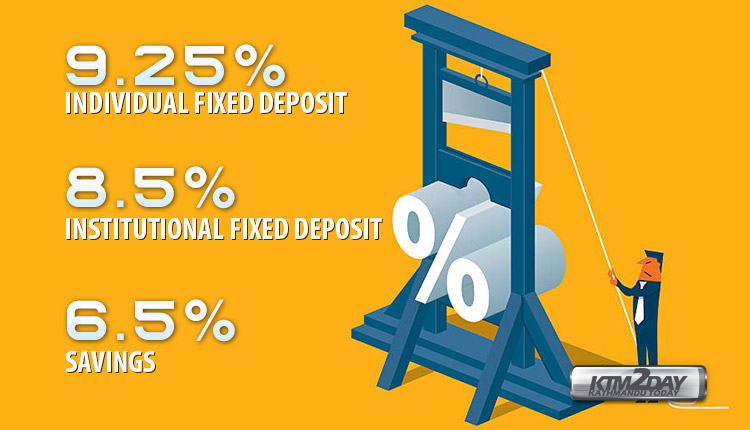 Owing to pressure from Nepal Rastra Bank (NRB) and the government, Nepal Bankers' Association (NBA) — the umbrella organisation representing 28 commercial banks of Nepal — has decided to cap the interest rate on savings, individual fixed deposits and institutional fixed deposits.
The NBA meeting today decided to cap interest rate on savings at 6.5 per cent, on individual fixed deposit at 9.25 per cent and 8.5 per cent for institutional fixed deposits.
The NBA decision will come into effect from Friday itself.
The banking sector started witnessing massive interest rate volatility after the commercial banks began waging an interest rate war by offering higher rates to lure depositors by ditching their 'gentlemen's agreement' on interest rates three weeks ago.
Previously, NBA had agreed upon to limit interest rate on savings to seven per cent and 10 per cent each on individual fixed deposit and institutional fixed deposit. However, some banks had started accepting fixed deposits at up to 13 per cent interest rate lately after the NBA agreement was ditched.
Following such instability in the bank interest rate, the central bank had directed commercial banks to bring down the interest rate on deposits.
Moreover, a study committee of the government had submitted its report to the Ministry of Finance today recommending the central bank to scrap the provision of adding 0.75 percentage point as return on assets in the formula to derive the base rate. The suggestion aimed at bringing down the base rate of banks and subsequently the lending rate. The base rate is the minimum rate at which banks and financial institutions can disburse credit to borrowers.
Similarly, the study committee led by Deputy Governor of NRB Shivaraj Shrestha had recommended that banks and financial institutions be barred from adding premium of over two per cent to the base rate while setting lending rates for the priority sector as a few banks were found adding a premium of up to 12.5 per cent to the base rate, prompting lending rates to shoot up.
Likewise, the study report had also suggested that a measure be introduced mandating banks and financial institutions to tie up their savings deposit rate to inflation to ensure depositors do not lose out when parking money in banking institutions.