Everything you need to know about the Clean Feed Policy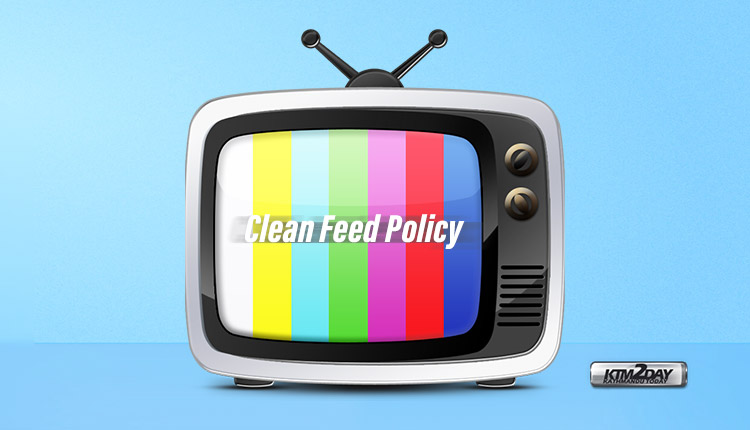 Cable TV operators did not air any foreign pay channels on June 24 and 25 in what they called a protest against the Clean Feed Policy pitched by the government. The move comes nearly three years after the government first put forth the idea of Clean Feed in television broadcasting. The policy, introduced in 2016, will be implemented after the Advertisement (Regulation) Bill, currently under consideration in Parliament, is endorsed by lawmakers.
Here is what you need to know about the Clean Feed Policy.
What is the Clean Feed Policy?
Cable TV operators screen pay channels and free-to-air channels on Nepali television sets. While, the free-to-air channels, even if they air advertisements, are shown without imposing charges on viewers, the foreign pay channels carry advertisements of various foreign brands.
However, the pay channels can also be aired without any commercials after levying certain charges on viewers. Such a provision is acknowledged by the government as Clean Feed.
Why is the government introducing it?
As per the policy, Nepali viewers pay Direct-to-Home satellite television service providers a monthly charge and are thus also exposed to foreign commercials. "Apart from a few exceptions, almost all of the foreign channels carry commercials made by multinationals and conglomerates for which Nepali viewers are paying monthly charges, while the domestic advertising industry is shrinking. Hence, the need for implementation of clean feed," states the policy. The government and domestic advertisers say that as the pay channels are loaded with international commercials, the multinational companies are not interested in broadcasting their commercials in domestic channels. Also, the domestic agencies have fewer slots to air Nepali commercials.
According to the government, with no multinational beaming commercials through Nepali channels, the television industry has faced slowed revenue growth, and thus not allowed it to produce quality content. This, in turn, leads to viewers opting to watch foreign channels which would draw the curtains on Nepali language, culture and traditions.
Also, as cable and DTH operators scramble to gain a licence to beam foreign channels in Nepali households, millions in Nepali currency is expensed by the operators annually to keep their broadcasting rights of foreign channels. The government also wants that money to stay in.
Why are cable operators protesting against the policy?
Cable TV operators have time and again fretted over the implementation of Clean Feed and have thwarted previous government attempts saying that the costs of downlinking (broadcasting) foreign channels free of adverts would be much higher than the existing rate as the channels would have to streamline their content to particularly serve Nepali viewers.
According to Sudhir Parajuli, president of the Federation of Cable TV Association of Nepal, implementation of the Clean Feed Policy would require foreign broadcasters to set up separate facilities aimed at trimming foreign commercials and relaying the channels to Nepal.
"It means we would face higher costs which we would have to pass on to consumers," said Parajuli. "Also, if we stop broadcasting the foreign channels because of higher costs the sales of set-top boxes of Indian operators would go up, apart from fostering pirated contents which would throw us and Nepali channels out of business."
So who loses?
The policy entails imposing additional charges on viewers who will have to pay more than the current price to watch the foreign channels they are inclined to. Also, the international broadcasters who are unwilling or unable to produce clean feed content streamlined for Nepal will lose viewers as the government would not issue them the broadcasting rights.
And the TV operators who are directly down-linking the foreign pay channels will have to allocate resources, manpower and equipment, to trim foreign adverts and air such channels.
And who benefits from this policy?
Once implemented, the Clean Feed Policy will help expand the domestic advertising industry. It will require domestic advertisers to invest in and produce more commercials to fill the slots in channels with clean feeds.
The government says the policy will increase employment opportunities, expand domestic advertisement market and stop the outward flow of money by eliminating the costs of subscribing to many foreign channels. Clean feed will also mean domestic as well as international brands will air their commercials on Nepali channels.
How do other countries handle this?
Many countries have implemented regulatory policies aimed at monitoring foreign channels and commercials.
The United States, European blocs and South Asian nations have placed laws that bar foreign channels from taking surcharges if they air with commercials and the same laws allow broadcasters to impose monthly charges on viewers if they beam clean feed.
In South Asia, Pakistan has laws to regulate foreign channels and bars such channels from imposing costs on viewers. Sri Lanka monitors the feed from foreign channels and Bangladesh has an intervention policy allowing it to fix price for foreign channels. Bhutan distributes the channels through a government mechanism.