DJI launches educational robots : Robomaster EP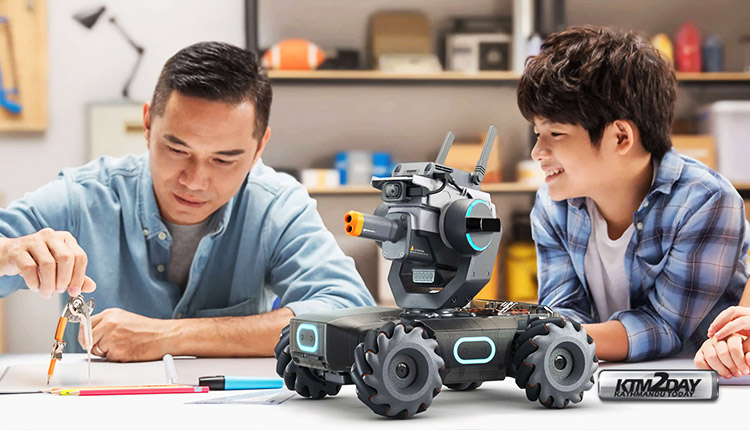 Last year, DJI known for its flying drones introduced the the $500 RoboMaster S1 to teach children programming. The product was successful and hence the company has now introduced RoboMaster EP, its second educational robot, compatible with a variety of software platforms and open SDK.
The new DJI RoboMaster EP comes with more than 50 sensors and can be mounted as an engineering robot or an infantry robot. Users can also assemble it as a robot for organizing items, a transport robot or even a sentry robot.
Dji's new robot hardware includes high-performance servos, robotic arms, tweezers, infrared depth sensors, and modules, including power transfer modules. The high-performance direction of the RoboMaster EP can also be customized through a programming interface.

DJI's new educational robot features a mechanical arm with a compact structure, supports precise FPV control and works in conjunction with a mechanical claw. Even if the target object isn't in front of you, you can still complete remote tasks with a first-person perspective using the app.
RoboMaster EP supports more than 20 third-party sensors and hardware, such as "Micro: bit", "Arduino" and "Raspberry Pi", and can use its own battery to provide power to them. The EP maintains 8mm and 16mm hole positions and provides platform substrates, chassis extension back plates, and front axle adapter plates for connection. The robot also supports different operating systems such as Android, iOS, Windows and macOS.

DJI has released different applications for mobile phones and computers that allow users to program RoboMaster EP using programming languages such as Scratch 3.0 and Python 3.6. Li Zhuoquan, product manager of RoboMaster EP, said the new robot's biggest highlight is its open SDK, which supports more than 50 programmable sensor interfaces.
Students and teachers can obtain robot data from their sensor modules, video streams and audio streams to write programs aimed at achieving multimachine collaborative training.
It has not yet been confirmed whether the new DJI RoboMaster EP will be released in the United States or how much it will cost.