Government presents budget of Rs 1.793 trillion for 2022-2023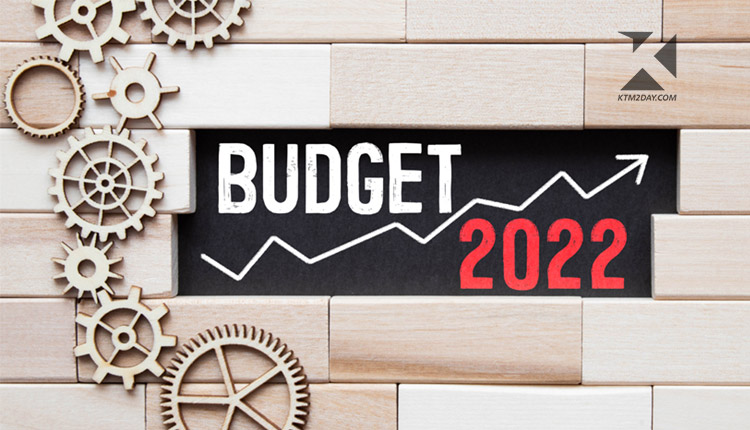 For the fiscal year 2022/23, the government has set a budget of Rs 1.793 trillion, which is 8.86% more than the budget for the current fiscal year.
On Sunday, Finance Minister Janardan Sharma presented the budget at a joint meeting of parliament. He said that the above amount would be spent in the next fiscal year, which is Rs 146 billion more than the amount spent in the current fiscal year.
Last year, the CPN-UML government led by KP Oli announced an ordinance-based budget of Rs 1.647 trillion. The current Finance Minister, Janardan Sharma, later changed the budget to Rs 1.632 trillion.
The government has set aside Rs 753.40 billion (42%) of the total budget for 2022/23 for recurring costs. For the current fiscal year, Rs 678.61 billion is being spent on expenses that happen every year.
In the same way, the budget set aside Rs 380 billion for capital expenditures, which is 21.2% more than the Rs 374 billion for the current fiscal year. For financial management, a total of Rs 230 billion has been set aside. The provincial and local governments will get a total of Rs 400 billion in the form of fiscal grants.
The government wants to raise enough money to pay for Rs 1.240 trillion of the expenses it has planned. For the rest of the money, the government will borrow Rs 256 billion from within the country and Rs 242.26 billion from outside the country. Rs 55.46 billion will come from foreign grants.
In the meantime, the government has set an ambitious goal of 8% economic growth for the next fiscal year. This is up from the initial goal of 6.5 % for the current fiscal year. In the same way, the goal for inflation has been set at 7%, which is more than the 6.5 % goal for the running year.
In the meantime, the government has raised the minimum income tax rate for a unmarried person from Rs 400,000 to Rs 500,000 per year. In the same way, the threshold for a married person has gone up from Rs 450,000 per year to Rs 600,000. It means that the person who makes less than this amount now only has to pay 1% tax on their social security contributions.
Major Highlights ::
Health and education sectors to be prioritized to increase human development index by 0.65 pc
Rs 10 billion to be allocated for the agriculture promotion program
Agriculture zones to be handed over to provinces
Health and education sectors to be prioritized to increase human development index by 0.65
Govt to focus on production and agriculture to decrease imports by 20 percent
National campaign to be launched to increase agriculture production for self-reliant economy
300 agriculture volunteers to be trained to promote agriculture
A Farmers' Welfare Fund to be established. Government to provide the 10 percent contribution supposed to come from farmers. Rs 1 billion allocated as seed money for the purpose
Sugarcane farmers to be provided with subsidies at the time of crushing in the same year, Rs 810 million allocated for providing subsidies on sugarcane to farmers
A budget of Rs 55.97 billion allocated for the agriculture ministry
Venture capital to be promoted and challenged fund to be established for promotion of manufacturing industries
Local governments that work for the transformation of agriculture to be provided with an additional grant of Rs 50 million
Challenge fund to be established for businesses run by abroad returnee
Rs 3 billion allocated for the Prime Minister Nepali Production and Promotion program
To increase manufacturing industries' share in the country's GDP, subsidies to be provided on the purchase of raw materials
Provisions made for the use of domestic products in government and public offices.
Cold stores to be established in all seven provinces
100 community food/crops go-downs to be established
Productive industries run by young entrepreneurs and foreign returnees to be encourage
Programs run by private sector like 'Make in Nepal' and 'Made in Nepal' to be supported by the government
Federal government to transfer a total grant of Rs 450 billion to provincial and local governments
Private sector to be promoted to produce and export rhododendron, sweet oranges and Sichuan pepper, among others.
Rs 260 million to be allocated for operating business incubation centers in all seven provinces
Subsidies will be given to goods with comparative advantage to increase their production and export
All preparatory works to extract iron from Dhouwadi iron ores will be completed within the next fiscal year
A budget of Rs 5.90 billion allocated to restructure Prime Minister Agriculture Modernization Project (PMAMP)
A firm producing import-substitution goods that utilizes electricity of more than Rs 100 million will be given 2-5 percent concessions on the electricity bill
Govt to introduce new programs to bring in 1 million foreign tourists in the next fiscal year
In collaboration with the provincial and local governments, the private sector will be encouraged to grow mangoes, apples, rhododendron, litchi, kiwi, grapes etc and to produce byproducts like juice and wines
Program to be launched to welcome 1 million tourists in the coming FY
Adequate budget will be allocated for the construction of petroleum pipelines along the Amlekhgunj-Lothar (Chitwan), Siliguri-Charaali (Jhapa)
A budget of Rs 330 million allocated to develop Great Himalayan Trail
Govt allocates Rs 9.38 billion for the promotion of tourism in the next fiscal year
Rs 900 million allocated for Tourism Infrastructure Development Program operated in coordination with local units in 216 places
Bhairahawa and Simara special economic zones will be brought into operation Construction of Panchkhal special economic zone to be completed within current fiscal year
The government has allocated a budget for local bodies to provide cotton planting machines to quality cotton farmers and encourage cotton production in the county
A provision is made to lease land for 50 years to operate manufacturing industries
Rs 3.79 billion to be allocated for industrial infrastructures
Rs 330 million allocated for the construction of 'The Great Himalayan Trail' that extends from east to western of Nepal
Govt to support upgradation of trekking trails to base camp for peaks opened for public, and to expand telecommunication facilities in the trails
Govt announces plan to introduce pension for farmers. Govt to provide 10 percent of the amount deposited by farmers
Gautam Buddha International Airport and Pokhara Regional International Airport to be brought into full-fledged operation
Nijgadh International Airport Project to be taken forward by preparing a design for the project through Investment Board Nepal
Rs 9.38 billion allocated for the tourism sector
Rs 2.20 billion allocated to develop additional taxiway and terminal building at TIA to minimize pressure of air traffic
CAAN to be split into two autonomous entities- regulatory body and the body responsible for developing civil aviation infrastructure
The government has allocated a budget for the improvement of industry management, creating technical manpower, packaging, branding and the marketing of products by industries brought into operation with the investment or support of local governments
Provision for leasing land for 50 years to operate industries in the country
A budget of Rs 12.24 billion allocated for aviation infrastructure development
Govt reduces minimum threshold for FDI injection to Rs 20 million from Rs 50 million
A budget of Rs 200 million allocated for installing haemodialysis centers in each of the seven provinces
To provide respite to kidney patients in carrying out haemodialysis, the government has allocated Rs 100 million
Govt to install a blood bank in each province for easy blood transfusion
To attract more students to education, a day-meal program to be extended to students of up to Grade 8 of government schools. At present, such meals are provided only to the students of upto Grade 5. In the first stage, the government is extending it to students of upto Grade 6 in the next fiscal year.
The government will start the necessary process to establish a medical institute in Dadeldhura of Sudurpaschim Province.
Government to start a 'Rajya ko Avivara– Ek Ghar Ek Dhara,' program focusing mainly on providing drinking water to underprivileged people
The government has allocated Rs 70.5 billion for the Ministry of Education, Science and Technology. While Rs 5.32 billion is allocated for education at the provincial government, Rs 1.21 billion has been allocated for local bodies
The government has decided to create a quality environment for education in the country and has allocated Rs 8.30 billion for the development of technical and business education
The Government lowered the eligible age for elderly allowance from 70 to 68 years
Land to be leased for 50 years to establish export-oriented industries
Petroleum pipeline to be constructed from Siligudi of India to Char Aali of Jhapa
300,000 landless families to be provided with land ownership certificates
The government allocates 1.34 trillion to provide allowance for senior citizens, single women, differently-abled people, Dalits, indigenous groups and children below 5 years of age
A total of Rs 7.4 billion allocated for the Ministry of Land Management, Cooperatives and Poverty Alleviation
A budget of Rs 1.77 billion allocated for the Ministry of Women, Children and Social Welfare
Subsidy to be provided to organizations producing tools to be used by differently-abled people
Public, physical infrastructure and transport to be made differently-abled friendly
Chandragiri-Chitlang-Palung-Chitwan fast track to be constructed in the first phase to reduce travel time from Kathmandu to Chitwan to an hour
Construction of Chitwan-Rampur-Butwal fast track and Chitwan-Rampur-Pokhara fast track with private investment to be expedited with the help of Investment Board Nepal
The construction of the Mulpani-located international cricket stadium will be completed in the current fiscal year while the Kirtipur Cricket Stadium will be upgraded to conduct games even at night as well.
The construction of the incomplete Gautam Buddha International Stadium will also start in Chitwan
The government has also allocated a budget for the 9th National Games and for the construction of required infrastructure for the 10th National Games
The government has also allocated a budget to construct a women's cricket academy and stadium in Kohalpur of Banke.
The government has also fixed a budget of Rs 870 million for the development of sports infrastructure as well as creating provisions to encourage the private sector to operate sports academies in the country.
A suitable environment will be created for foreign clubs to organize franchise leagues in the country.  Likewise, medal winners in the Asian and Olympic competitions will be provided with lifelong monthly financial incentives.
The government has allocated Rs 2.46 billion for the Ministry of Youths and Sports
A budget of Rs 69.38 billion allocated for the Ministry of Health and population
A budget of Rs 9.13 billion allocated for the Ministry of Labor, Employment and Social Security
All public infrastructures including those related to transport to be made friendly to differently-abled persons
Rs 7.50 billion allocated to implement health insurance programs
Rs 1.19 billion allocated for Tunnel Development program
Sisnekhola-Nagdhunga tunnel project to come into operation in coming fiscal year, Rs 5.20 billion allocated for Nagdhunga tunnel construction project
Rs 30.50 billion allocated for the development of East-West Highway
The government has decided to finish the construction of Kathmandu-Terai Fast Track within three years and has allocated Rs 30.7 billion for the purpose this year
Rs 6.53 billion allocated for rail and metro-rail projects
The government allocates Rs 7.5 billion for the Prime Minister Employment Program.
The government has decided to allocate Rs 9 billion for the blacktopping of roads 235 kilometers in length in total and build 16 bridges to connect 26 districts of the mid-hilly region through the Pushpalal Highway.
Rs 43.95 billion allocated for the construction of transmission lines and substations.
Upper Arun Hydropower Project gets Rs 1 billion.
A total of Rs 33.50 billion allocated for water resources and irrigation sector
A total of Rs 2.91 billion has been allocated for Madan Bhandari Highway
Government allocated Rs 10.74 billion for the development of Nagdhunga-Naubise-Mugling and Mugling-Pokhara road section which is also considered a strategic road.
A total of Rs 4.69 billion allocated for the construction of Kaligandaki corridor, Karnali Corridor, and Koshi Corridor under the North-South  roadway project.
Rs 3.10 billion allocated for developing 10 new cities across the country.
A total of Rs 8.59 billion allocated for the Ministry of Communication and Information Technology
Government has decided to allocate a budget for connecting the headquarters of Humla with the national highway.
A budget of Rs 13.89 billion allocated for providing concessional loans.
Govt to start process to promote fully digital banking system.
A Hedging mechanism to be introduced to reduce risk of variation in foreign currency exchange rate for foreign investors
To promote firms related to private equity and venture capital, the licensing process will be made easy.
The government has decided to allocate Rs 6.84 billion for the Regional Trade Point development project.
A total budget of Rs 1 billion has been allocated for the development of Kalanki-Narayan Gopal Chowk road under the Chakrapath Development Project  to manage the traffic congestion in Kathmandu.
The government has also decided to expand the Suryabinayak-Dhulikhel section of the Araniko Highway to a four-lane road
Three flyovers and two underpasses to be constructed in Kathmandu Valley
10 percent reservation in IPO for those who have gone for foreign employment
National identity cards to be provided to all Nepalis within two years, 2 million nepalis to get national ID card within this FY
A budget of Rs 1.40 billion allocated for Truth and Reconciliation Commission, Nepal
The government has decided to start the construction of flyovers in Gwarko, Satdobato, and Ekantakuna and underpasses in Koteshwar and New Baneshwor.
The government has allocated Rs 5.20 billion for Nagdhunga tunnel.
The government has announced a budget of Rs 1.793 trillion for the upcoming fiscal year 2022/23 – including a capital expenditure of Rs 380 billion (21.2 percent of the total budget).
Rs 400 billion (23 percent) allocated for fiscal grants to sub-national governments
Govt revises minimum income tax slab at Rs 500,000 per annum to unmarried individuals and Rs 600,000 per annum to married persons. At present, the slabs are Rs 400,000 and Rs 450,000 respectively.
The Government decided to increase salaries of all government employees by 15% starting Mid-July.
Only 1 percent income tax to be imposed on people earning foreign currency by outsourcing services
Govt to provide 90 percent tax concession on imported sanitary pads
Construction of Kathmandu-Terai/Madhesh fast track to be completed within three years, Rs 30.7 billion allocated for the project
Budget allocated for national pride projects cannot be transferred to projects other than national pride projects
National Grants Policy to be endorsed as a guideline for provincial and local governments to provide subsidies
Projects will be made mandatory to hire an environment expert to reduce the possible environmental damages during projects construction
Tax concession on income tax on individual insurance is revised to premium payment of Rs 40,000 per year
Govt announces not to purchase new vehicles for government offices for the next fiscal year. The government targets to reduce recurrent expenditure by 15 percent. Also, the government has announced to take into auction the unused vehicles at the government offices.