Kathmandu Air Quality Index at alarming levels once again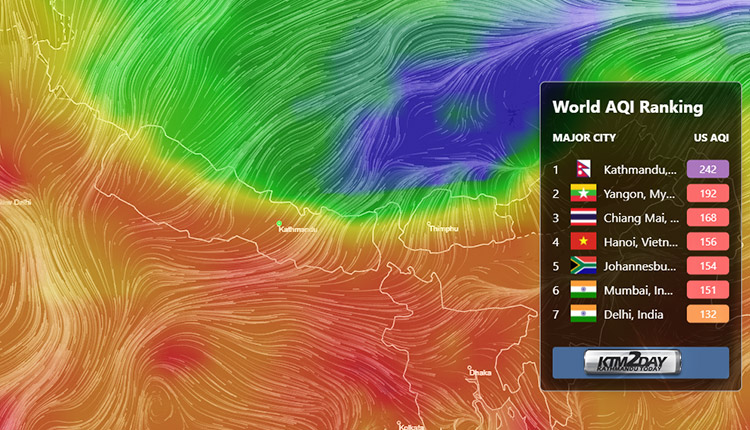 Air pollution, which had been declining for a few days, has risen again across the country. Although air pollution has decreased due to rain in some parts of the country on Thursday evening, it has increased yet again today.
According to the latest statistics, Dhangadhi has the highest air pollution. Dhangadhi Air Quality Index (AQI) has reached 429. Bharatpur of Chitwan is in the second position. It has an AQI of 398, followed by Lalitpur's Bhansepati with an AQI of 359.
Similarly, Kathmandu ranks No. 1 among 50 cities in the world in terms of pollution. Myanmar is second, New Delhi capital city of India is third and Dhaka of Bangladesh is fourth.
The AQI of 50 and 50-100 is considered safe while 150 is considered unhealthy. AQI of 200 is risky for all age groups while index of 300 is considered risky. An AQI of above 300 is fatal.
Weather experts say dry winters, extreme wildfires, weak westerly winds, and smog have increased pollution.
The government closed schools across the country last week after air pollution reached dangerous levels.
Even though the school has been reopened since Sunday, the pollution has skyrocketed back again.
Last week low visibility caused by the smog had disrupted flights at Kathmandu airport, leaving passengers facing hours-long delays.
Experts suggest using masks as much as possible, and taking special care of children and the elderly to avoid the effects of air pollution.
Many Kathmanduites are suffering from burning eyes, coughing and itchy nose.