LG launches InstaView Door-in-Door refrigerator in Nepali market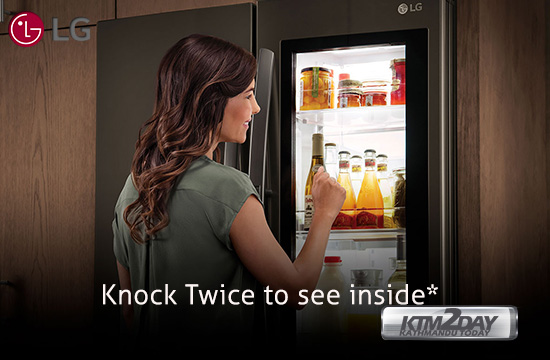 LG Electronics has introduced LG InstaView Door-in-Door refrigerator, a signature product from LG targeting the festival season.
The 660 litre refrigerator is priced at Rs 321,000. As part of its festival offer, the company is giving away a free LG vacuum cleaner with every purchase of the LG InstaView refrigerator. The refrigerator is available in one colour option, grey.
The refrigerator has been designed to meet consumer demands by improving usability and accessibility, said the company.
The LG InstaView Door-in-Door refrigerator is among a number of breakout products that the company has developed as part of its ongoing effort to bring convenience enhancing features to consumers.
Designed to be state of the art, the refrigerator is user and environmentally friendly, said Sanjay Rajbhandary, marketing communications and brand management head at CG electronics.
As the name LG InstaView suggests, one can take a look inside the refrigerator by knocking on the transparent door twice with the knock-on feature.
"By lessening the frequency of opening the refrigerator door, food stays fresh for a longer time," said Rajbhandary.
Since it not necessary to open the door time and again, the refrigerator prevents up to 41 percent cold air loss, said the company.
Similarly, LG's SmartThinQ app helps in controlling the functionalities of the refrigerator even if there is no one in the home through a smartphone. One can control temperature, switch on express freeze as well as hygiene fresh functionality with a single tap through the app. The InstaView refrigerator is also capable of self-diagnosing problems and will notify the customer along with suggested steps to resolve the issues.
According to the company, multiple digital sensors in the refrigerator not only monitors but also responds to temperature variations via its room temperature sensor, refrigerator sensor, defrosting sensor, freezer sensor and ice temperature sensor.
Another unique feature on the LG InstaView refrigerator is the 'Hygience Fresh Plus." It utilises five-step anti-bacterial deodorisation to remove 99.9 percent bacteria and also keeps the refrigerator free from bad odour while keeping the contents fresher for a longer duration of time, according to the company.
Similarly, the fresh balancer feature in the refrigerator helps in maintaining the optimal humidity inside the refrigerator by sealing the vegetable box. The perfect level of moisture in the air keeps the stored food fresh for an enhanced duration.
The inverter linear compressor saves consumption of energy by 32 percent and also reduces noise up to 25 percent. This advanced technology also minimizes fluctuation and maintains an optimized temperature.