Nepal Airlines to conduct test flight at GBIA with it's widebody Airbus A330 aircraft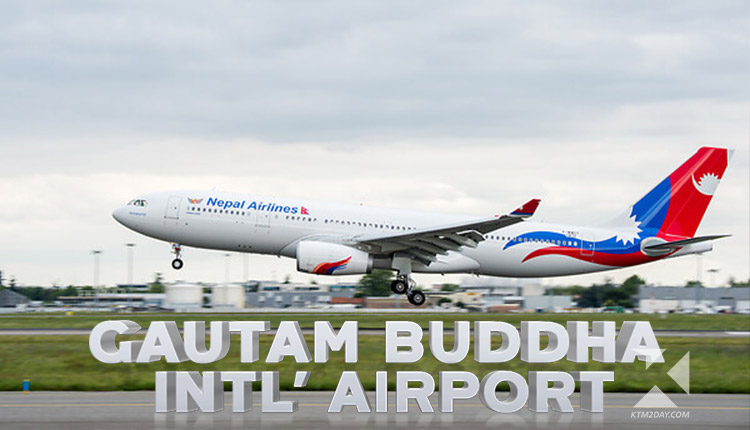 Nepal Airlines is scheduled to conduct a test flight at Gautam Buddha International Airport in Bhairahawa, Rupandehi on Thursday. The Airbus A-330 widebody aircraft of Nepal Airlines will take off from Kathmandu for Gautam Buddha International Airport at 3 pm on Thursday.
Minister for Culture, Tourism and Civil Aviation Prem Ale, Secretary, staff, journalists and 260 passengers will be on board the aircraft, said General Manager of Gautam Buddha Airport Govinda Prasad Dahal.
The aircraft will return to Kathmandu two hours after its arrival in Bhairahawa. Dahal also informed that a formal program will be held in the departure hall of the airport in two hours. General Manager Dahal said that all the check and security procedures will be completed for the passengers coming from Kathmandu as per the rules of the international airport.
Earlier, the flight was stopped at Gautam Buddha Airport on the first day of the new year due to lack of preparation. Gautam Buddha International Airport is seen as an alternative to Tribhuvan International Airport.
The airport, which has been operating domestic flights for six decades, is being upgraded to become an international airport.
The Thai Aero Thai Company had conducted a mechanical test flight for 10 days from March 20. There will be regular commercial flights from the airport from May 2. Jazeera Airlines has already obtained permission to fly from Kuwait to Gautam Buddha Airport three days a week from May 2.
The airport, which has a total area of ​​787 bighas, has a runway of three kilometers in length and 45 meters in width. The airport, which was laid in 2071 BS, was targeted to be completed in three and a half years. However, the construction of the airport has been delayed due to various reasons including earthquake, blockade, Madhes movement and Corona epidemic.