Guna Airlines starts flights to Bhairahawa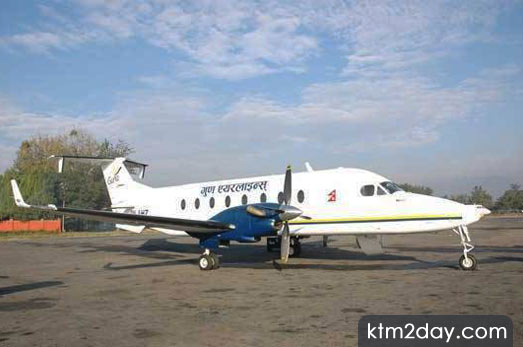 Guna Airlines has started to fly Kathmandu – Bhairahawa – Kathmandu route from today. The airline with three Beech aircraft has recently started its mountain flight too, said a company official.
The airline is currently flying to Pokhara, Simara, Biratnagar, and Janakpur and has plans to increase the daily number of flights to these destinations to two. According to the private airline, it is also planning to fly Bhadrapur, Bharatpur, and Nepalgunj routes and add one more aircraft in the near future.
Recently, Buddha Air has bought a new 70-seater aircraft ATR -72-500. With a fleet of eight, Buddha Air is flying the new aircraft on Kathmandu-Biratnagar-Kathmandu route. The airline is also planning to start a flight to Indian cities and Bhutan soon.
Currently, there are six single-engine aircraft operators — Air Kasthamandap, Tara Air, Hilander Air, Makalu Air, Untiy Air and Akash Bhairab Air flying in the domestic sky.
Makula Air has started commercial flying with its Cessna Grand Caravan, a single engine aircraft specially suited for flights in Nepal's high altitude, remote and short take off landing (STOL) air fields.