Only 137 mobile phones obtained TAC from NTA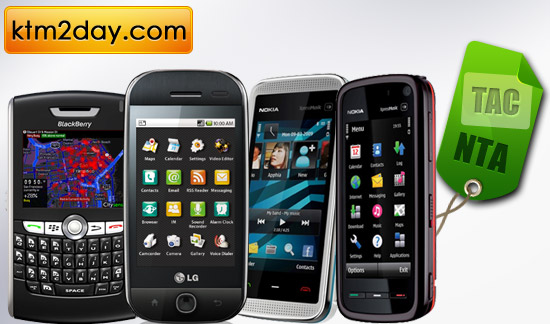 The mobile phone market is flooded with dozens of brands and hundreds of models, but only nine brands have obtained a Type Approval Certificate (TAC) allowing it to be sold.
A TAC is granted to cell phones that meet the regulatory, technical and safety requirements set by the Nepal Telecommunications Authority (NTA). The government had made TACs mandatory since June 1, 2008 under the Telecommunications Act 1997.
According to the NTA, nine brands, namely Nokia, LG, ZTE, CG, Blackberry, Bird, VCall, HP and Konka have obtained TACs for their 134 various GSM models.
Similarly, CG and Konka have received TACs for two and one CDMA models respectively. In the GSM category, Nokia has received approval for 78 sets, LG for 36 sets, Vcall and Konka for seven sets each.
Responding to the incidents of explosions of mobile phones injuring or killing customers, the authority has urged the public to buy only approved sets. "Mobile sets without a TAC might be hazardous for the health," said NTA spokesperson Kailash Kunar Neupane. "There are hundreds of unapproved sets in the market, and we are making the manufactures or importers comply with the law."
"It is beneficial for both customers and manufacturers or their authorised dealers to get certification for their sets," said Managing director of Neoteric Nepal, one of the authorised dealers of Nokia mobile sets. "The government must enforce the law effectively for the safety of customers."
"Everyday, new models enter the Nepali market. However, either the manufacturers or their authorised dealers don't know about the provision of TAC or neglect it," said NTA deputy director Kabindra Shrestha.
According to the Department of Customs, Nepal imported 885,823 mobile sets worth Rs. 2.87 billion in the first 10 months of the current fiscal year against 601,601 sets worth Rs. 2.26 billion in the same period last year. In FY 2007/08, imports amounted to 583,503 units worth Rs. 1.64 billion.
"Earlier, since a TAC was not that necessary, very few bothered to obtain it," said Vice president of IMS Tele Trade, which deals in Samsung mobile phones. "We are also in process to obtain the TACs."
Obtaining a TAC costs Rs. 1,000 per model. If foreign manufactures want to obtain the certification directly before starting sales in Nepal, they can do so by paying US$ 15 per model.
"Initially, a TAC is valid for six months. If there are no complaints, we provide a permanent TAC good for five years," said Shrestha.
Meanwhile, the authority is also planning to start physical tests of mobile sets before awarding TACs. It plans to assign the job to any lab providing accreditation or to any university.
The NTA has been awarding TACs based on lab reports or declarations of conformity provided by the manufacturer. "If we conduct physical tests in Nepal, we could attach a sticker saying "Approved by NTA" to each set," said Shrestha.(Source: ekantipur)
Type-approved mobile sets

GSM set
No. of approved models
Nokia
78
LG
36
VCall
7
Konka
7
ZTE
2
CG
1
Blackberry
1
Bird
1
HP
1
CDMA set
No. of approved models
Konka
1
CG
2
Total
137