Honda Wing World showroom opens in Kathmandu, Nepal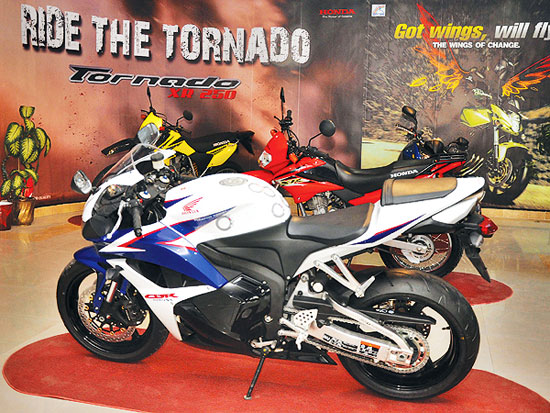 The two-wheeler market has been accelerating steadily with dealers rolling out diverse models to the joy of customers. The traders are keeping no stone unturned to lure customers, not only are they competing in the mass segment but also in the high-end segment.
A reflection of the trend is the opening of Honda Wing World, an exclusive showroom for Honda high-end motorcycles. Syakar Company, the sole authorised dealer of Honda motorcycles in Nepal, inaugurated the exclusive outlet for its high-end products at Teku, Kathmandu on Friday. The new showroom was inaugurated by Taro Kobayashi, sales manager, Honda Motors Japan amid a programme.
According to Syakar Company, the showroom is the first of its kind in Nepal. Honda Wing World is the first exclusive showroom in Nepal with an international range of Honda motorcycles, said the company in a statement.
The showroom at present will offer customers the Honda NXR 150, XR Tornado 250, Honda CBR 600 RR, Honda CBF Hornet and Honda CB 1000R, said Saurav Jyoti, director of Syakar Company. The motorcycles cost from Rs 350,000 to Rs 2.7 million. "We have designed the showroom as per Honda's philosophy of fun biking. I am sure it will be able to win the hearts of Nepali customers," added Jyoti.
Besides selling bikes, the showroom will also provide service and spare parts. The company has set up a service station next to the showroom for the convenience of customers. Likewise, the company has also arranged a special lounge from where owners can see how their bikes are being serviced and also enjoy TV and movies with refreshments.
"When it comes to big bikes, customers are possessive. Therefore, we have also designed an exclusive lounge from where people can see how their machines are being treated," said Saurav Jyoti. The service personnel have been trained by Japanese engineers and have sound knowledge about these exclusive motorcycles.
Jyoti said that demand for high-end motorcycles was high in the market. "We want to develop the culture of fun biking, and this initiative is a start," added Jyoti. And as far as the presence of Honda high-end machines in the domestic bazaar is concerned, the company holds a large share. According to Jyoti, the company sells more then 200 units of the Honda XR Tornado and six to 12 units of other 600 cc to 1000 cc machines annually. And with the launching of the new exclusive showroom, it expects to increase sales further.
The company is also planning to make arrangements for finance facility for these machines. It aims to launch various events like road trips and free service campaigns to attract customers. (Source:ekantipur)