UK, Switzerland, Finland provide $62M aid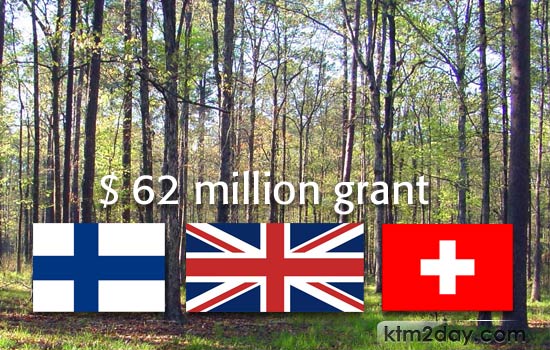 The Government of Switzerland, the Government of United Kingdom and the Government of Finland have agreed to provide US$ 62 million, equivalent to Rs. 4.45 billion, grant assistance to the Government of Nepal for the implementation of Multi-Stakeholder Forestry Programme.
A Joint Funding Agreement (JFA) between the Government of Nepal and the Governments of Switzerland, the UK and Finland was signed at the Ministry of Finance on Monday.
Thomas Gass, Swiss Ambassador to Nepal and Dominic O'Neill, Head of DFID Nepal and Krishna Hari Baskota, Secretary of the Ministry of Finance, signed the JFA on behalf of their respective governments.
Asko Luukkainen, Ambassador of the Embassy of Finland, was also present at the signing ceremony.
The programme will be implemented by a wide range of stakeholders – the Government of Nepal, NGOs, civil society, and the private sector to enhance and strengthen national, regional and local institutional arrangements that can deliver effective forest sector development.
This programme covers a total of 23 districts throughout the country with fully-fledged local-level activities.
The purpose of the programme is to contribute to inclusive economic growth, poverty reduction and tackling climate change through the good management of Nepal's forestry sector and ultimately to improve livelihoods and resilience of poor and disadvantaged people.
The programme expected to local forestry groups managing and accessing more and better forest resources, multi-stakeholder structures practice, good governance, poor, disadvantaged and climate vulnerable households receive targeted goods and services.
The programme will also contribute to forestry sector management by supporting the preparation and revision of forest sector policies, plans and guidelines.
The programme will continue till March 31, 2015 from the date of signature.
The Government of Nepal has expressed its sincere appreciation to the Swiss, British and Finish Governments for providing the assistance and their continued support in the socio-economic development of Nepal. (Source: The Rising Nepal)