Inter Operator connection : Smart Cell, Hello Nepal, Gramintel to be interlinked within a month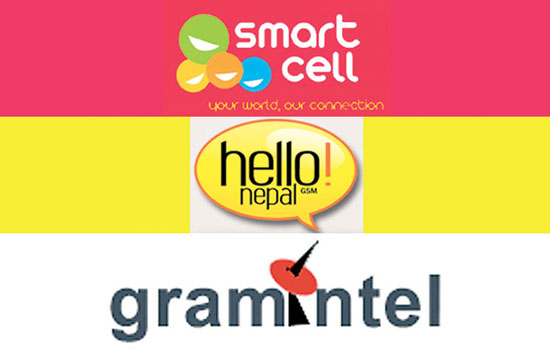 Subscribers of Smart Telecom, Nepal Satellite Telecom and STM Telecom will be able to make calls to each other within a month when interconnectivity will be established between their networks.
The three small telecom operators, also known by their abbreviations Smart Cell, Hello Nepal and Gramintel respectively, are preparing to conclude an interconnection agreement this week.
Interconnectivity is a physical link between two operators that allows subscribers of one service network to make or receive calls from the network of another company. It was revealed a few days ago that the small operators had not established an interconnectivity link for a long time affecting the rights of their 0.35 million users.
"We will sign an agreement for interconnection within a week," said Mani Chaulagain, CEO of Nepal Satellite. He added that they would install equipment to set up interconnectivity as soon as they sign the pact. Though the company has more than 0.13 million users, it has no interconnection with Smart Telecom and STM Telecom.
STM Telecom started services eight years ago. Similarly, Smart Telecom and Nepal Satellite entered the local telecom sector more than two years ago. However, there is no interconnection between them due to their and the regulator's negligence.
Last week, the regulator Nepal Telecommunications Authority (NTA) issued a directive ordering the operators to set up interconnection within 15 days or face legal action. Senior officials of the telecom companies said that they would sign an accord to establish interconnection with a 50-50 investment within a week.
The Interconnection Guideline implemented in 2008 has a clear provision according to which all the operators should establish interconnection with each other. However, the operators said that they had not been able to interlink their networks because of confusion over who would be the receiver and provider of the interconnection. The guideline says that a receiving company has to pay Rs 35,000 per port annually to the company providing the interconnection to its network.
The NTA has been working to remove the ambiguity in the guideline. Recently, the NTA gave verbal directions to the small operators to sign agreements to establish interconnection with equal investment. A source at the authority said that Nepal Satellite, which had earlier wanted to be the provider, had agreed to invest equally and initiated preparations to set up interconnection with Smart and STM Telecom, whose interconnection service is at the test phase.
"We have been informed that Nepal Satellite is ready for an interconnection agreement," said Smart Telecom CEO Subash Bajracharya. "Since we have already sent a memorandum of understanding, we will soon sign the contract with Nepal Satellite."
The operators said that it might take 15-30 days to set up a physical link for interconnection with optical fibre or microwave connection. They said that the cost would be known only after deciding whether to adopt a microwave link or lay or extend their leased optical fibre cable. Sunil Jakibanja, CEO of STM Telecom, said that they were considering establishing both the optical fibre and microwave link. "It will help us to provide interconnection service smoothly even if one link should be disabled due to any reason." (Source:ekantipur)