Panel to submit report on petro pipeline next week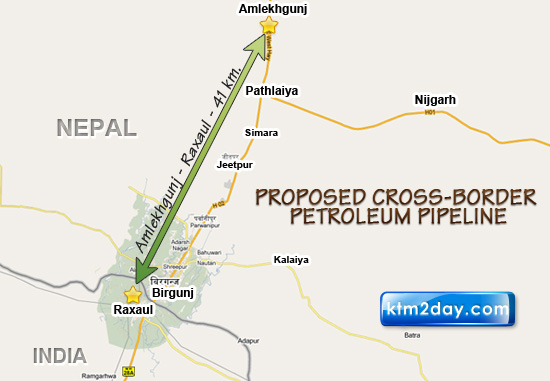 A technical team entrusted with the task of holding study on the appropriate modality for the Nepal-India cross-border petroleum pipeline is scheduled to submit its report to the National Planning Commission (NPC) next week.
The team led by the Ministry of Commerce and Supplies (MoCS) Secretary Lalmani Joshi comprises experts from the Finance and Home Ministries and Public Procurement Office, among others. "We will hold a meeting soon and forward the project report to the NPC appropriate suggestion," Joshi said.
The build, operate, own, and transfer (BOOT) committee of the NPC will evaluate the report before giving the final nod to develop the much-delayed 41-km petroleum pipeline. The BOOT committee is led by NPC Vice Chairman Dipendra Bahadur Kshetry.
The project, which was first proposed by the Indian Oil Corporation (IOC) in 1995, has been the subject of much discussion. "The study will help fast-track the project as it has been put on ice for several years," Joshi said, adding there are some positive indications that the project will be executed this time.
On Jan 3, the Cabinet had agreed in principle to develop the project. Subsequently, the NPC formed a committee to look after a number of legal and technical complexities.
MoCS officials said the IOC was keen to develop the project with its own resources. However, the committee will decide whether Nepal can utilise its own resources, go for a 50-50 percent ownership or ask India for grant to build the project.
The project has been estimated to cost Rs 1.6 billion, besides the costs for the land acquisition. A pre-feasibility study in 2004 and a technical study in 2006 had termed the project economically viable on condition the pipeline is operated unhindered for 20 years.
The pipeline, if developed, is expected to save Rs 300-350 million annually in transportation costs alone for Nepal Oil Corporation, which currently spends around Rs 500 million annually to transport petroleum products from Raxaul of India, to Amalekhgunj.
The annual operation cost of the proposed pipeline is estimated at Rs 120 million.
The project is envisaged to reduce leakage and ensure the supply of cleaner and cheaper fuel. It could also bring relief to Nepali consumers from frequent shortages caused by strikes.
A report of the High-Level Petroleum Reform Committee had also suggested immediate construction of the pipeline.
A joint-venture model with equity participation of the NOC and IOC was planned when the government approved the project in February 2010. But in March 2011, Nepal and India dropped the JV model and agreed to a new modality, whereby the two countries would construct the pipeline separately on their respective territories, and it would then be linked after signing a bilateral pipeline treaty.