Nepal Airlines new aircraft Harbin Y12e handed over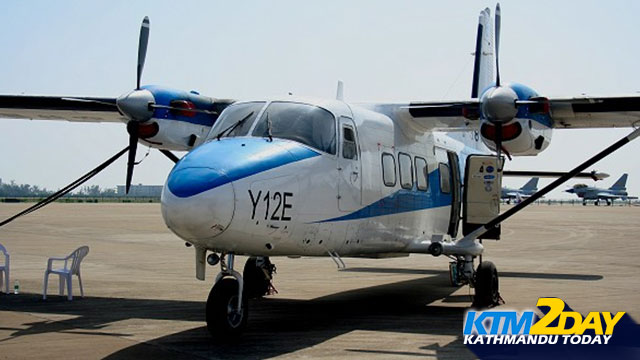 China Aviation Industry Corporation formally handed over a Y12e aircraft, part of a six-aircraft deal between Nepal and China, to Nepal Airlines Corporation (NAC) in Harbin, China on Sunday.
The 17-seater twin-engine turboprop utility plane is a gift from China to Nepal. Built by Harbin Aircraft Manufacturing Corporation, it is scheduled to arrive in Nepal on July 25, said NAC officials. China Aviation Industry Corporation is the parent company of Harbin Aircraft.
NAC has six Chinese aircraft on order–two MA60 manufactured by Xi'an Aircraft Industrial Corporation and four Y12e manufactured by Harbin Aircraft. Of these six aircraft, an MA60 and an Y12e are gifts. The MA60 has already been delivered and is operating on various routes.
The delivery of the first batch of Y12e had been originally set for June 30. However, taking a lesson from the two-month delay in getting its MA60 aircraft into service due to inadequate paperwork, NAC has pushed back the delivery date of the Y12e to have ample time to prepare the necessary documentation.
The MA60, which arrived in Kathmandu on April 27, was forced to take an extended rest at Tribhuvan International Airport as NAC officials scrambled to get various documents in order, of which they said they were not aware as requirements had changed in the 27 years since they last acquired new aircraft.
"We pushed back the delivery date to be able to fulfil all the documentation process," said Madan Kharel, managing director of NAC.
This time, the national flag carrier plans to bring the aircraft bearing a Nepali registration mark. The overstretched national flag carrier, whose domestic fleet presently consists of one antique Twin Otter, plans to bring another Twin Otter into service by mid-July.
The Y-12e is powered by PT6A-135A engines. It received Type Certification from the Civil Aviation Administration of China in 2002. The aircraft made its first flight in August 2001.
This version was certified by the US Federal Aviation Administration on August 2, 2006. Experts said that the Y12e would be a fitting alternative to the Twin Otter.