Nepal Airlines' second new Airbus A320 touches down with relief materials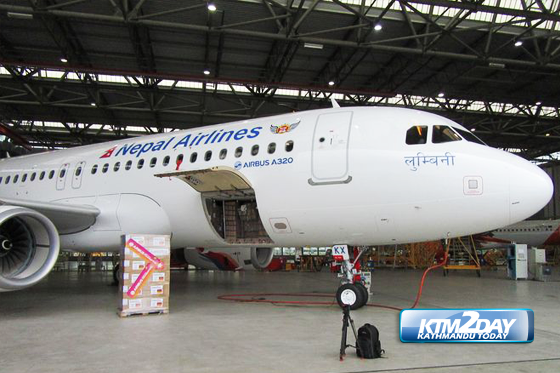 Nepal Airlines Corporation (NAC)'s second new Airbus A320 aircraft touched down here today morning from Hamburg, Germany, carrying relief materials and medicines.
The plane named 'Lumbini' had landed at Tribhuvan International Airport (NTA) at 6:40am. As per NAC, its new plane brought 3.3 tonnes of medical supplies.
As the nation is passing through hard times following Saturday's devastating earthquake, NAC had allowed Humedila, a German organisation, to send medicines, relief materials and a medical team free of cost to Nepal in the new aircraft. The plane has been assigned call sign 9N-AKX.
In Hamburg-Kathmandu flight, it had a total of 18 passengers, including crew members, four German doctors, two nurses, two representatives of the German organisation and two journalists. NAC Chairman Ram Sharan Neupane and NAC Acting General Manager Ganesh Bahadur Chand had welcomed the Airbus.
As per the agreement reached in June 2013 to buy two Airbus A320 aircraft, NAC had received its first aircraft called 'Sagarmatha' on February 8 and started its commercial operation on February 27 by flying to New Delhi.
The national flag carrier has stated that it would put the newly bought second plane in operation soon after completing necessary procedures like payment of customs duty to the government and obtaining air operators certificate (AOC) from the Civil Aviation Authority of Nepal (CAAN). Both Airbus A320 aircraft of NAC are powered by engines made by US-based International Aero Engines.
The plane has a capacity of 158 seats, including eight for business class and the rest for economy class. NAC's two old Boeings — Gandaki and Karnali — have a seat capacity for 190 passengers. With the second new aircraft joining the fleet, NAC now has four planes to operate air services in international markets.
NAC officials hope that the new aircraft would help increase service performance and give a boost to the tourism industry in the country. The airlines has been saying that with new planes, it would be adding international destinations, including Bangalore in India and Guangzhau in China. However, NAC has been facing shortage of pilots to fly the Airbus.