Buddha Air approved to provide MRO services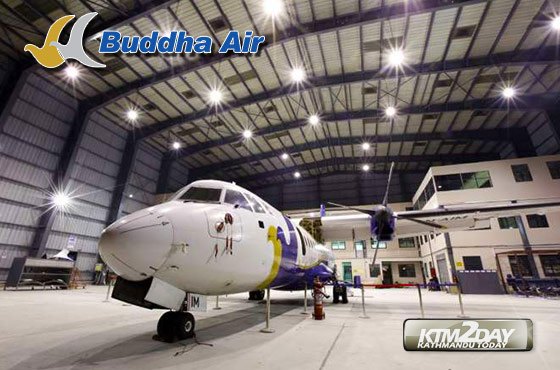 Leading Nepali carrier Buddha Air has been granted a licence to provide maintenance, repair and overhaul (MRO) services for the family of ATR and Beechcraft aircraft from its state-of-the-art closed-door hangar at Tribhuvan International Airport (TIA).
Following the decision of a minister-level meeting on Sunday, Buddha became the first Nepali airline to acquire a permit to provide MRO services. After the licence is okayed, Buddha will need to obtain an operation certificate from the Civil Aviation Authority of Nepal (Caan).
The carrier plans to begin services soon. "As there is a large volume of ATR operations in neighbouring countries like India, Bhutan and Bangladesh, we see a great business opportunity," said Upendra Lal Shrestha, a senior engineer at Buddha Air. "We have enough manpower totalling 146 technical personnel to provide MRO services."
Buddha has secured business from Dhaka-based Novoair and is planning to sign an agreement with Bhutan-based Druk Air to provide maintenance services for its ATR aircraft.
MRO charges range from $30,000 to $100,000 per aircraft. The airline estimates that it can provide MRO services for seven to eight aircraft annually.  With two new international airports slated to come online in the next few years, domestic airlines have been expanding their fleets in anticipation of increased business on regional sectors, said a Tourism Ministry official.
Buddha Air's hangar, which is spread over 37,000 square feet, was built at a cost of $2.5 million in 2012. "As the hangar can accommodate an Airbus 320 or a Boeing 737, it can extend MRO services for narrow body jets in the near future," the official added. "MRO services in Nepal can create a big impact on the country's aviation industry."
India currently offers MRO services. But airlines from Bangladesh, Bhutan and even India prefer to get their MRO done abroad, particularly in Singapore, mainly due to cost advantages.
Airlines are willing to fly long distances for full aircraft maintenance due to high taxes and inadequate MRO services in India.
"We have a strategic location advantage to get business from neighbouring countries because of lower labour costs," said Shrestha.
"However, taxes are a major setback for us as well."  He said that Buddha has written to the government to reconsider tax rates as Nepal has a huge potential to get MRO business and earn foreign currency.  Recently, airline representatives said that the government had been charging unnecessary import duty on aircraft spare parts and other components although the Aviation Policy talks about tax waivers. According to airline officials, they have been paying hefty amounts in VAT on the import of spare parts.
The government charges 1 percent tax on purchased or leased aircraft. Spare parts are charged VAT ranging from 13 to 40 percent.
In addition, the government charges 10 percent as aircraft lease tax.
Likewise, carriers have to pay 15 percent of the total cost of sending aircraft crews for training abroad as Tax Deducted at Source (TDS). The unnecessary tax burden has been affecting the growth of the airline industry in Nepal, they said.