Melamchi project's tunnel excavation completed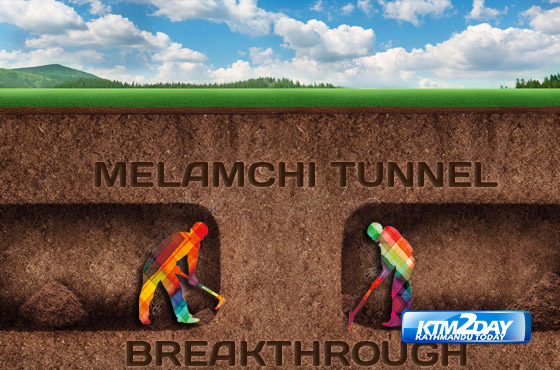 A breakthrough has been made in construction of the tunnel of the much-awaited Melamchi Water Supply Project.
Vice President Nanda Bahadur Pun made such announcement amid a function organised in Melamchi today. The breakthrough was made at the middle-part of 7.4-km tunnel from Sindhu to Gyalthum.
On the occasion, Vice President Pun said that clean drinking water would be provided to residents in Kathmandu Valley before Dashain.
Melamchi project began in 1988 after formation of Melamchi Development Committee, which was supposed to undertake construction work of the water supply project. The construction of the 27.5 kilometres long tunnel was later undertaken by Melamchi Water Supply Project with the support of Asian Development Board in 2000.
The MWSP had set first deadline for completing the construction in 2007. The construction of the tunnel picked pace in June 2009 after a Chinese contractor was selected. The Chinese contractor built 6.4 Kilometeres tunnel at a cost of Rs 70 million. The contract was later cancelled in September 2012. In January 2014, an Italian company, CMC Ravenna, started digging the tunnel. Work was again halted in 2015 after earthquakes hit the nation.
The MWSP is a national pride project which aims to address the water woes of Kathmandu Valley. It is estimated that 170 million litres of water will be supplied to Kathamndu everyday in the first phase. The MWSP also plans to supply additional 340 million litres of water per day after joining the Yangri and Larke rivers.
The project is nearing completion after 20 years after breaching multiple deadlines over the years.
Similarly, Executive Director of Melamchi Water Supply Project Ram Chandra Devkota said, "The construction of tunnel from Sindhu to Gyalthum has been completed and water would be brought to Sundarijal within four months if works moved ahead as per the agreement."
"Out of the 27.5 kilometres tunnel, 'finishing works' have been completed only on four kilometres from Sundarijal of Kathmandu to Aambathan of Sindhupalchok. The finishing works remain to be carried out on 23.5 kilometres which will take some time," he added.
The construction of the tunnel, with 80 per cent financial assistance from the Asian Development Bank (ADB), is likely to cost Rs 10.65 billion excluding VAT.