Nepal Airlines conducts maiden flight to Doha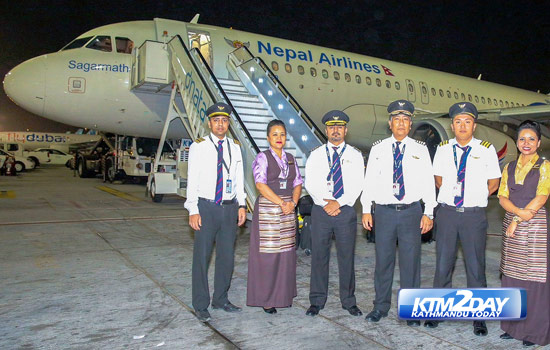 Nepal Airlines Corporation's Airbus A330-200 plane 'Annapurna' conducted its maiden commercial flight to Doha with 99 per cent occupancy on Wednesday.
As per Sailesh Kansakar, assistant spokesperson for NAC, 271 passengers were on board the 274-seater aircraft.
Scheduled to take off from Tribhuvan International Airport for Hamad International Airport in Doha of Qatar at 10:00 pm, the return flight of Annapurna has been scheduled to touch down at TIA at 8:40 pm on Thursday.
Kansakar said the return flight will likely be fully occupied as 270 seats had already been booked by Wednesday.
The aircraft has 16 business class and 258 economy class seats.
NAC has launched a promotional offer, with a one-way flight from Kathmandu to Doha costing Rs 11,000 and a return ticket at Rs 18,000 per economy class seat.