Yeti Airlines adds third ATR 72-500 aircraft into its fleet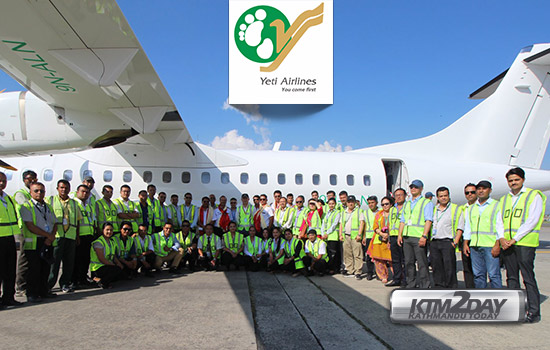 Yeti Airlines has added third ATR 72-500 aircraft to its fleet.
This aircraft with call sign 9N-ALN arrived in Kathmandu on Tuesday approximately at 1,450 hours after its flight from France-Toulouse-Italy-Egypt via Muscat, read statement issued by the Yeti Airlines on Tuesday.
The crew members on board were Captain Pramod Poudel, Captain Ramod Kunwar Shrestha and Captain Surendra Kunwar, flight dispatcher Santa Prajapati, Senior Engineer Suresh Kumar Bajracharya and CAAN representative Bharat Raj Parajuli.
The ATR72-500 is a twin-engine turboprop aircraft manufactured by the French-Italian consortium ATR. With its superior build and performance, the ATR72 has become one of the most successful regional carriers in the world, steadily expanding and entering into new global markets.
Also read – Buddha Air to welcome its 10th aircraft 72-seater ATR 72-500 series
The ATR72-500 is powered by two Pratt & Whitney PW127 engines and is equipped with Hamilton Sundstrand composite blade propellers. These high-tech engines and propellers ensure exceptional performance, fuel efficiency, remarkably low noise and low greenhouse gas emissions.
Well known global operators of the ATR72-500 aircraft are Air New Zealand, Aer Lingus, SAS, HOP!, Flybe, Azul, Bangkok Airways, Jet Airways and Malindo among others.
This ATR72-500 aircraft has been purchased from KF Turbo Leasing Limited and will be one of the youngest ATR72 aircraft operating in Nepal. With the addition of this aircraft, Yeti Airlines will expand its ATR72 operations to Bhadrapur and Pokhara – and will help facilitate Nepal achieve its target of 2 million tourist arrivals by the year 2020.
Yeti Airlines commenced its operations from 1998. Yeti Airlines now operate three ATR72-500 and six BAE Systems Jet stream 41 aircraft. Along with Tara Air, its sister airline which operates two Dornier Do228 and four DHC6 Twin Otter aircraft, Yeti Airlines operates the widest network of flight routes in Nepal.