Air Asia to suspend all flights to Nepal from Oct 13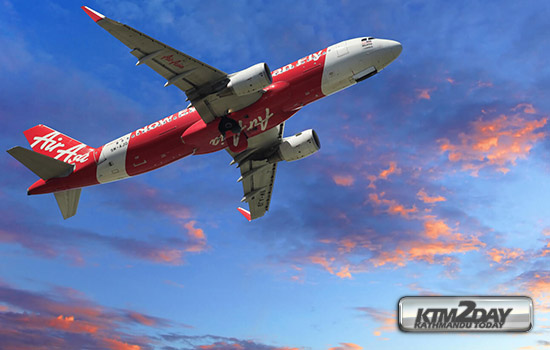 AirAsia has announced it will suspend its flights to Kathmandu completely from October 13, for at least one year, citing the shortage of passengers.
The Malaysian low-cost airline company, which is in controversy for delaying the payment of pending airport service charge to government, had recently written to the Tribhuvan International Airport (TIA) authority informing of its decision to suspend regular flights to Kathmandu from concerned date, informed Rajendra Chhetri, general manager of TIA.
"The airline company has cited lack of adequate passengers for suspending its flights to Nepal for one year. However, it has been mentioned in the letter that the company can resume its flights to Kathmandu anytime in the near future depending on the flow of passengers," according to Chhetri.
AirAsia had been conducting four flights a week to Kathmandu on an average through its Airbus 330 aircraft with 274-seat capacity. "As mentioned by the company, it had been flying with only 50-60 passengers on an average in recent times," added Chhetri.
A TIA official said that the actual reason behind AirAsia stopping its flights to Nepal is the controversy that the company is facing for delaying its pending dues to TIA. "Sooner or later, AirAsia is bound to face action for repeatedly delaying the pending payment of airport service," said the TIA official seeking anonymity.
Of the almost Rs 350 million pending dues, AirAsia has paid around Rs 220 million to the TIA authority so far. "The company had deceived TIA regarding payment time and again issuing bounced cheques and has failed to clear dues despite TIA's repeated direction," the source added.
In addition, the TIA had earlier threatened to blacklist the airline if they fail to pay the airport service charge.
However, TIA General Manager Chhetri is optimistic that AirAsia will resume its flights to Nepal in the future and clear all its remaining dues on time. "If the company fails to clear its dues, we will adopt legal provisions," he stated.
Meanwhile, it has also been reported that the local general sales agent of AirAsia in Nepal had been deceiving the TIA by issuing bounced cheques.