Bad weather forces flights to divert' delay at TIA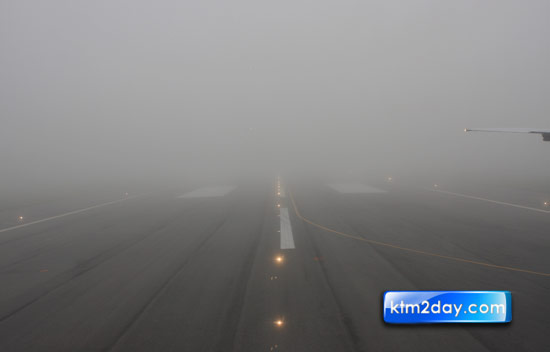 Poor visibility due to dense fog in the Kathmandu Valley diverted some and delayed other flight operations at the Tribhuvan International Airport today.
According to Terminal Departure Office at the only international airport, bad weather since morning today created problem for the international flights and the overall flight operations as a flight of Oman has to be diverted to Lucknow whereas a flight of Qatar airways was diverted to Kolkata.
Similarly, flights of Bahrain Air and Spice Jet were also delayed due to weather.
According to TIA officials with improvement in the weather, the flights resumed late in the day. "The normal flight operations started after 1 pm with gradual improvement in the visibility," an official at the airport said.
Nepal Airlines Corporation (NAC) — due to bad weather — delayed its Bangkok flight.
According to the NAC official, the airlines took off to Bangkok at 2:30 pm, late from its schedule of 11:10 am. The international airport on an average receives 60 flights in a normal day and but till the evening today, it received around a little over than half — 35 to 40 — flights.(Source:THT)