Mahindra SUV Price in Nepal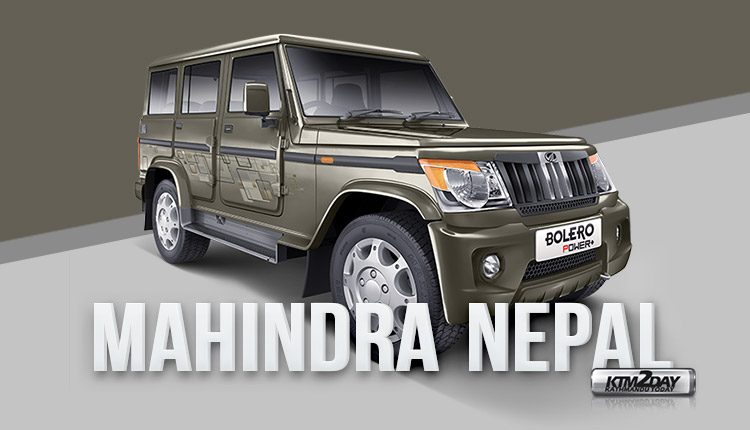 Mahindra SUV Price in Nepal
Mahindra & Mahindra Limited is an Indian multinational car manufacturing corporation headquartered in Mumbai, Maharashtra, India. It was established in 1945 as Muhammad & Mahindra and later renamed as Mahindra and Mahindra. It is one of the largest vehicle manufacturers by production in India and the largest manufacturer of tractors in the world. It is a part of the Mahindra Group, an Indian conglomerate.
It was ranked 17th on a list of top companies in India by Fortune India 500 in 2018.
Agni Inc., is the authorised dealer of Mahindra vehicles in Nepali market which sells a complete lineup of most popular Scorpio and Bolero models along with XUV, KUV, TUV, Marazzo and Thar .
Contact : Agni Inc.  Phone :  01-4006711, 01-4006712
Mahindra Auto Price in Nepal 2023
Image
Vehicle Specs
Price Rs.

Mahindra XUV 500, 2179cc
Mahindra XUV 500 FWD W5
Mahindra XUV 500 FWD W7
Mahindra XUV 500 FWD W9
Mahindra XUV 500 AWD W11
Mahindra XUV 500 AWD W11 AT

62,70,000
68,65,000
74,00,000
86,00,000
91,25,000

Mahindra XUV 300, 1197cc,Petrol
Mahindra XUV 300 W4 PET MT
Mahindra XUV 300 W8 (O) PET MT



39,75,000
56,50,000

Mahindra XUV 300, 1497cc,Diesel
Mahindra XUV 300 W4 DSL MT
Mahindra XUV 300 W6 DSL MT
Mahindra XUV 300 W8 DSL MT
Mahindra XUV 300 W8 (O) DSL MT



41,25,000
45,00,000
51,50,000
57,25,000

Mahindra Marazzo, 1497cc
Mahindra Marazzo M6 8 STR
Mahindra Marazzo M8 7 STR
58,20,000
64,30,000

Mahindra TUV 300, 1493 cc
Mahindra TUV 300 T4+
Mahindra TUV 300 T6+
Mahindra TUV 300 T8 100 BHP
Mahindra TUV 300 T8 100 BHP DT
Mahindra TUV 300 T10 100 BHP
Mahindra TUV 300 T10 100 BHP DT
Mahindra TUV 300 T8



37,35,000
39,95,000
43,65,000
44,35,000
44,35,000
45,00,000
45,95,000


Mahindra KUV 100, 1198cc

Mahindra KUV100 NXT K4+ G80 (5STR)
Mahindra KUV100 NXT K6+ G80 (5STR)
Mahindra KUV100 K8 G80 (5STR)
Mahindra KUV100 K8 DT G80 (5STR)
Mahindra KUV100 K4 D75 (5STR)
Mahindra KUV100 K6 D75 (5STR)


27,75,000
29,65,000
31,45,000
31,75,000
31,45,000
34,45,000





Mahindra Thar CRDe 4WD
2489 cc NEF TCI-CRDe engine
Diesel , Fuel Tank : 60 Ltr
Seating : 6
79KW (105 Bhp) @ 3800 rpm
43,15,000


Mahindra e2o plus P8 (72V)
Electric Engine
30 kW @ 3500 rpm
Driving Range : 140KM
Seating : 4
28,00,000

Mahindra Bolero, 2523cc
Mahindra Bolero Maxi Truck Plus 2WD
Mahindra Bolero Maxi Truck Plus P/S 2WD
Mahindra Bolero Camper SC XL FB 2WD
Mahindra Bolero Camper SC XL FB 2WD with P/S
Mahindra Bolero PickUp 2WD P/S 1.5T
Mahindra Bolero Camper SC 4WD
Mahindra Bolero Camper DC 2WD
Mahindra Bolero Camper DC 4WD
Mahindra Bolero Camper DC 2WD with P/S
Mahindra Bolero Camper DC 4WD with P/S
Mahindra Bolero XLS 9 STR NAC 4WD with PS
Mahindra Bolero LX MDI 4WD with P/S
Mahindra Bolero Power+ SLX 2WD 7 STR
16,80,000
19,50,000
19,95,000
23,00,000
26,00,000
25,00,000
22,00,000
24,00,000
25,45,000
27,65,000
40,20,000
38,95,000
34,85,000

Mahindra Scorpio , 1.99 Ltr to 2.2 Ltr
Mahindra Scorpio S5 2WD (8/9 Seater)
Mahindra Scorpio S5 2WD (8/9 Seater)
Mahindra Scorpio S5 4WD (8/9 Seater)
Mahindra Scorpio S5 4WD (8/9 Seater)
Mahindra Scorpio S7 2WD (7/8 Seater)
Mahindra Scorpio S11 2WD (7/8 Seater)
Mahindra Scorpio S11 4WD (7/8 Seater)

48,85,000
51,85,000
53,00,000
56,00,000
57,80,000
65,65,000
71,25,000



Mahindra Scorpio Pickup, 2.2 Ltr

Mahindra Scorpio Pickup D/C S6 2WD
Mahindra Scorpio Pickup D/C S6 4WD
Mahindra Scorpio Pickup D/C S10 4WD
37,60,000
41,00,000
44,40,000

Mahindra Auto Price in Nepal - Updated on January 2023
Also Check : Suzuki Car Price In Nepal 2022