Syakar opens Safety Riding Training Center at Gwarko Lalitpur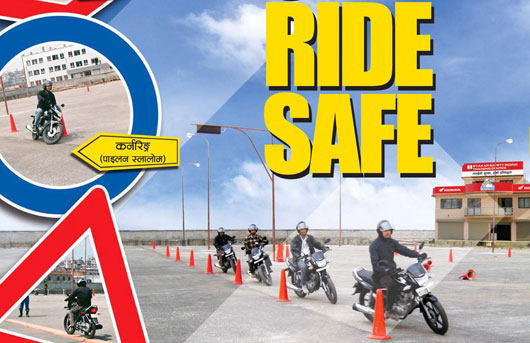 Syakar Company Limited, the sole authorized distributor of Honda Motorcycles in Nepal since 1968, opened Syakar Safety Riding Training Center (SSRTC) on Tuesday.
Vice President Paramananda Jha inaugurated the center amid a ceremony attended by Shinji Aoyama, chairman and CEO of Honda Motorcycles and Scooters India Pvt Ltd, and other members of the company.
SSRTC is the first world-class motorcycle training center in the country, according to the company. It is spread across 30 ropanis of land at Gwarko, Lalitpur. Children from the age of six can join the training classes and get appropriate knowledge about safety requirements on the road.
For the first time in the country, Syakar Company has also introduced the Motorcycle Riding Training Simulator at various showrooms in the capital.
Six trainers at the center have been trained by trainers from Singapore Rainbow Safety Riding Training Institute for 15 days. These trainers will conduct training for the participants, according to the company.
The 10-day beginner training for those who do not have driving license costs Rs 4,000 while six-day safety techniques training for driving license holders will cost Rs 2,000 per person. The training will be conducted everyday for two hours of which half an hour has been allocated for theoretical class.
Vice Chairman Jyoti said the center was opened after realizing the corporate social responsibility. "We are hopeful that the center will help minimize road accidents and unsafe way of handling two-wheelers. But we´ll have to address the crowd which will be interested in taking these classes which is a challenge to us," he added.
The company plans to provide safety riding training throughout the country. It also plans to initiate traffic awareness programs in the near future.
(Source: Republica)