TIA runway to be closed 10 hours daily for repairs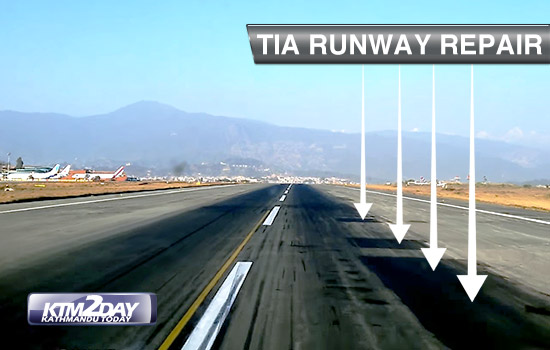 The runway at Tribhuvan International Airport (TIA) will be closed for 10 hours daily from February to carry out rehabilitation works on its dilapidated runway. Renovation of the 3,050-metre runway will take at least five months, airport authorities said Sunday. The project is estimated to cost Rs3.5 billion.
Sanjiv Gautam, director general of the Civil Aviation Authority of Nepal (Caan), told the Ministerial Development Problem Solutions Committee of the Tourism Ministry on Sunday that the country's sole international airport would be closed from 10 pm to 8 am the next day to renovate the five-decade old runway.
"We will be issuing a Notice to Airmen (NOTAM), a notice filed with an aviation authority to alert airlines about the temporary changes that are taking place at TIA, in a few days," he said. "Renovation works will begin in February and be completed by June," he said.
Airport authorities moved to improve the runway due to extreme pressure following frequent cracks in the pavement that have raised safety concerns.
In 2014, authorities put the TIA runway rehabilitation project on hold until the construction of Bhairahawa international airport was completed after being frustrated by its intermittent progress. The design was prepared in 2014, but the runway rehabilitation project decided to review it after the earthquake of April 2015.
"The TIA runway is the most sensitive zone in Nepal. Hence, rehabilitation works need to be completed within this fiscal year," said Tourism Minister Rabindra Adhikari. During the renovations, the runway at Gautam Buddha International Airport will be used if there is an emergency, said Adhikari.
Blacktopping works on the new international airport's runway is expected to begin in September, according to Caan. The net construction time which is six hours in the night time for runway construction is four months.
In March 2017, the project prequalified four firms following the completion of their technical evaluation. The prequalified companies are China National Aero Technology International Engineering Corporation, China Harbor Engineering, Beijing Changdao Municipal Engineering Group and a Nepali-Chinese joint venture consisting of China Railway No 5 Engineering Group and Swachchhanda Nirman Sewa. However, the scheme ran aground due to various problems.
The project is expected to pick prequalified bidders within 45 days after issuing a notice inviting prequalified bidders to submit financial proposals within the next few days, the Caan said.The winning contractor will be given four months to make preparations. The company will be required to have all its logistics and construction materials in place before it is allowed on the runway.
For the last six years, aircraft weighing more than 196 tonnes have been barred from TIA to prevent further damage to the runway. The old runway has been affecting smooth operation of aircraft due to repeated occurrences of cracks in the pavement.
While cracks and uneven surfaces can cause dangerous take-offs and landings, airline officials said they had been facing hours-long delays almost every day during the rainy season, frustrating travellers and causing financial distress among airlines. Scores of flights have been diverted or delayed in recent years due to problems in the runway. Trouble mainly occurs during the rainy season. This monsoon, the runway has developed cracks more than 20 times, according to airline operators.
A study conducted by Caan in 2014 had concluded that the runway at TIA was not strong enough to handle wide-body jets due to its ageing asphalt foundation, and distress is caused to the upper surface instantly when heavy planes land on it. Repeated occurrences of cracks on the runway have been affecting smooth operation of aircraft since 2011.
When compared to the core part of the runway between 2006 and 2013, damage to the intermediate layers was caused by the operation of large jets like the Airbus A330 and Boeing 777, according to Caan.
In 2013, there were 1,000 operations of A330-300 aircraft, 955 of Boeing 777 and 452 of A330-200, and the numbers are expected to double in the next 20 years.
Cracks first appeared on the runway in June 2011, and they have become a recurrent problem. Cracks were reported occasionally in 2012. However, the problem worsened in 2013, forcing Caan to take a harsh decision to bar aircraft weighing more than 196 tonnes from landing at TIA for a month.