Airtel reduces ISD call tariff to Nepal by 40 percent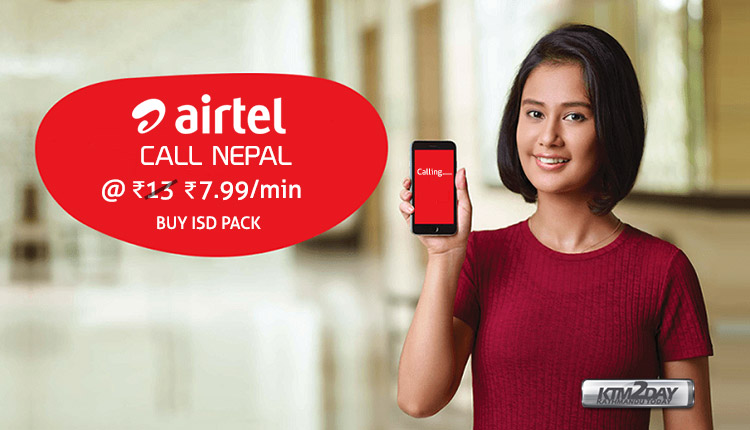 Indian telecommunications company Airtel has reduced the international subscriber dialling (ISD) call rate for its prepaid customers for calls to Nepal by 40 per cent, today.
The telecom company has also cut ISD rates to Bangladesh by 75 per cent.
According to the company, calls to Nepal will be priced at INR 7.99 a minute from INR 13 a minute earlier, reflecting a nearly 40 per cent reduction.
Similarly, international calls to Bangladesh will now cost INR 2.99 a minute from INR 12 a minute earlier, representing a whopping 75 per cent cut.
"These new call rates will further simplify tariffs and eliminate the need for special ISD packs to make calls to these neighbouring countries,"
Bharti Airtel's Chief Operating Officer Ajai Puri, said today in a media statement. The company will further drive the consumption of minutes on these routes, the statement reads.
Nepalis residing in India are still paying three times more while calling home when compared to rates for calls made from Nepal to India. Addressing the Nepali Parliament on August 3, 2014, Indian Prime Minister Narendra Modi had announced to lower the call charges to Nepal from India to encourage talks between Nepalis residing in India and their families and relatives back home. But Modi's pledge has still not been fulfilled.
Dilli Ram Adhikari, managing director of Nepal Telecom, said lower tariff to Nepal will increase volume of calls to Nepal and subsequently increase the revenue for Nepal Telecom too. "It will reduce the use of over-the-top (OTT) services like Viber, Imo, Messenger, WhatsApp and help increase the direct revenue of carriers."
In 2014, the telecommunication regulatory bodies of Nepal and India had formed a taskforce to look into ways on how the price of telecom services could be reduced so as to make telephonic communication between the two countries cheaper. The taskforce has already submitted its report to the governments of both the countries but it has not yet been implemented.