Buddha Air plans to extend flights to New Delhi from Pokhara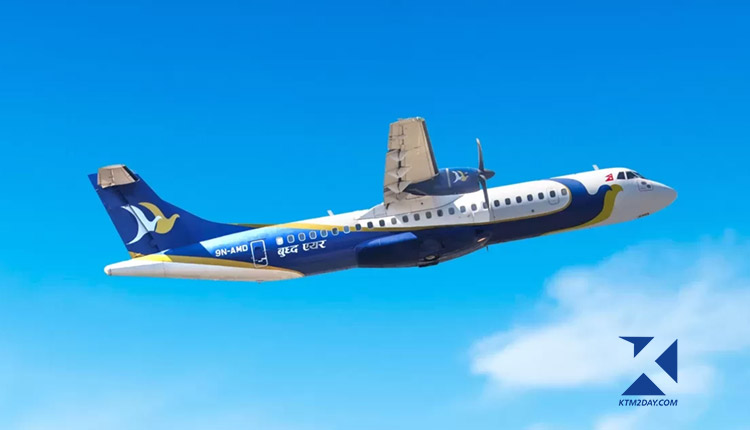 Buddha Air, a private sector airline, plans to expand its air network into neighboring India by adding flights to New Delhi, Dehradun, and other cities with a higher concentration of Nepalese residents.
Buddha Air intends to launch a direct flight between Pokhara (Kaski) and New Delhi. Dipendra Kumar Karna, Buddha Air's Information Officer, stated that plans are being made to fly to Delhi from Pokhara International Airport, which is nearing completion of construction.
According to him, Buddha Air intends to operate flights between Pokhara and Dehradun, India. From Pokhara to Delhi, two daily flights will be conducted. The flight takes 1 hour and 30 minutes to reach the location.
According to the company, it would fly to Delhi utilising an ATR 72 aircraft that was previously utilised for foreign flights to Vanaras and Kolkata, India.
Buddha Air is also the domestic airline with the most ATR aircraft. The same aircraft had operated short international flights to Indian destinations nearby. Indian tourists are expected to increase significantly if the business begins flights connecting the tourist hotspot Pokhara to Delhi.
'Pokhara is a significant tourist destination. As Pokhara is the first choice for tourists, the service will be expanded to include the nearest Indian location, New Delhi,' explained Information Officer Karna.
If the Pokhara Regional International Airport opens soon, the business claimed, the appropriate procedures have been initiated to enable direct flights to New Delhi from there. Karna, the company's information officer, stated that efforts are being made to establish direct flights to the cities from both Nepal and India.
"We are requesting authorization from the Ministry of Tourism, the Civil Aviation Authority, and the Directorate General of Civil Aviation (DGCA) of India to operate a flight from Pokhara to Delhi in order to complete the 'formal procedure,'" he explained.'
Buddha Air, the domestic airline with the biggest market share, presently runs more than 150 daily flights. According to the airline, these flights service approximately 8,500 passengers daily.
Buddha Air operates 11 ATR-72s, 3 ATR-42s, 2 Beech Aircrafts including 16 other aircrafts. According to the company, 4 additional aircrafts are on their way to Nepal and will arrive in roughly four months.
Flights to Venarus from May 1
Buddha Air is planning to resume direct flights in the Kathmandu-Venaras route. According to the company, the procedure of flying to Venaras is complete. Venaras , India's famous pilgrimage location, is also considered a destination with lots of prospects.
'The procedure of booking a ticket to Venarus is complete; just the 'confirmation letter' remains. We will begin operating the flight on May 1st," said Karna, Buddha Air's information officer.
Due to the high risks of covid infection, the flight to Venarus has been rescheduled. From the perspective of religious tourism, India's Venarus is a significant destination. Buddha Air's direct flights to Venarus was introduced to promote religious tourism.
On October 11, 1997, Buddha Air flew its inaugural flight. It began the flight with the introduction of a brand new Beechcraft 1900D from the United States.
Buddha Air intends to transform Pokhara Airport into a hub for all accessible destinations. As a result, Buddha has now established connections with six cities from Pokhara. According to the company, it operates flights between Pokhara and Janakpur, Simara, Bharatpur, Bhairahawa, Nepalgunj, and Dhangadhi.
The necessary arrangements have been completed to commence service between Pokhara and Bhadrapur as soon as possible. Even though the flight is planned to begin on April 16, it has been announced that there would be some delay owing to technical issues.
Currently 20 domestic airline providers, including 11 domestic helicopter companies, operate flights from Tribhuvan International Airport.
Internationally, 23 air service operators including two Nepalese Airlines are in service.